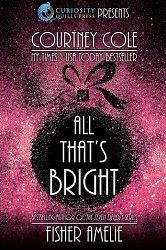 Title:
All That's Bright
Author:
Courtney Cole & Fisher Amelie
Published:
December 21/14 by Curiosity Quills
Length:
74pgs
Format:
ecopy
Genre:
holiday romance
Shelf:
review
Rating: ★★★★
Back Cover Blurb:
Share the gift of LOVE this Holiday season!
All That's Bright brings together contemporary romance favorites - Courtney Cole (NY Times & USA Today bestselling author of the Beautifully Broken series) and Fisher Amelie (bestselling author of the Seven Deadly series) - in a duology to remember.
Fans of Beautifully Broken will love joining Pax Tate and his family at Christmas time, while Seven Deadly enthusiasts can read all about Spencer and Caroline's wedding. This sweet collection will warm your heart through the 2014 holiday season.
My Review:
What a collection! These two authors have complementary writing styles that mesh well together. I enjoyed both stories on their own, but together they were great. These stories are merely a glimpse into the lives of characters better developed in the individual series as a whole. They are well written stories that I quite enjoyed reading.
Being short stories, the character development isn't overly in-depth, but we do get a good sense of who the characters are. For readers who've read the series into which these stories feed, the characters are well developed individuals. For readers just being introduced to these authors, the characters are developed just well enough that you enjoy these stories and want to read more about them.
These two holiday stories definitely work well together, to create a unique whole that is a great read year round. I will warn readers, however, that these short stories feed directly into the authors' other series.