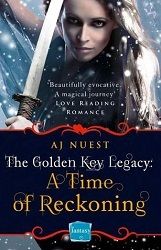 Title:
A Time of Reckoning
Series:
The Golden Key Legacy
Author:
A.J. Nuest
Published:
March 5/15 by HarperImpulse
Length:
106pgs
Format:
ecopy
Genre:
fantasy romance
Shelf:
review
Rating: ★★★★★
Back Cover Blurb:
Rhys had one job to do. One measly errand that shouldn't have been a problem, given the nature of his powers. But when an old enemy reappears, detailing the result of his actions, Rhys is forced to make a choice between a future with Faedrah or dying before his time. Frustrated and out of options, he agrees to her suggestion they to leap forward in time to the future…even though a good chance exists his powers will be nothing but a memory in his world. Flying blind on a wing and a prayer, they prepare to fight for everything they love against a wizard of insurmountable power.
Faedrah does her best to gather their closest allies. The sides are squared in a war to control the future of both worlds. With the stakes so high, only one advantage has been cast in their favor. The sigil of utmost protection inherent in Rhys' signature. If not enough to thwart the evil awaiting at the Austiere gates, she could find herself imprisoned in the future, while her kingdom and all those she has sworn to protect are lost to the mists of time.
My Review:
Absolutely, positively, undeniably fantabulous, now and forever. This story will not only keep you captivated and on your toes throughout, but it will stand the test of time becoming a well cherished favourite in your collection.
Once again Nuest has created a work of art. This story is a perfect melding of old and new, fantasy and the everyday. This is a fast paced and adventurous tale. Nuest continues to develop her vivid and larger than life world in such a way that you can't fail to picture it. Romance abounds in its truest form. The relationship between the characters is full of that deep, lasting love that transcends ages, while also being hot and steamy in the here and now. This works its way into every aspect of the intricately crafted, at times very suspenseful, fantasy tale that Nuest tells.
Nuest writes with characters that really stand out on their own. Rhys' in your face attitude never ceases to pull me in. Together these main characters have explosive chemistry that truly enhances the story. Their personalities are extremely well developed, allowing readers insights into their hearts, while also thoroughly enjoying them as individuals. The supporting cast of family and friends rounded out the story nicely, allowing
Swoon-worthy characters and a magical, adventurous story, how can you go wrong? This is a hot, fast paced novella that's the perfect ending to a series that I've very sorry to see end. I definitely can't wait to see what comes next from this fantastic author.