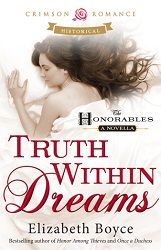 Title:
Truth Within Dreams
Series:
The Honorables #2
Author:
Elizabeth Boyce
Published:
January 19/15 by Crimson Romance
Length:
220pgs
Format:
ecopy
Genre:
historical romance
Shelf:
review
Rating: ★★★★★
Back Cover Blurb:
When Henry De Vere wakes up naked in bed with his longtime friend Claudia Baxter, it is his fondest dream and his worst nightmare come true. Could he truly have compromised one of his dearest friends without even the benefit of remembering it? Plagued by somnambulism his whole life, Henry fears his baser nature has asserted itself, and insists on doing the honorable thing to marry Claudia.
Claudia's plan to stage her own ruination and escape marriage to the churlish and elderly Sir Saint had seemed foolproof. She was sure the kindly Henry wouldn't mind helping her out … but somehow she hadn't counted on him actually proposing.
Their illicit encounter awakens feelings long buried for each. Will this preposterous scheme result in a happier ending than either could have hoped for?
My Review:
What an exciting and well written novella. Boyce definitely outdid herself with this one. This story was funny yet emotional, romantic yet oh so very real. Boyce deftly transports her readers back into the past with her seamless narrative and picturesque descriptions. The plot of this tale is absolutely unforgettable, bringing readers a real page-turner.
I formed an emotional connection with the hero of this tale right from the prologue. Getting to know him better was a pleasure. The heroine's naiveté was priceless. The commotion she caused through it was endearing. She was also completely approachable as a person. Seeing them muddle through their situation, both together and separately, definitely made my day.
This fantastic story is a must read for all lovers of romance, be it historical or not.
Goodreads
~
Shelfari
~
Crimson Romance
~
Amazon
~
B&N
~
Indigo
~
Google Play