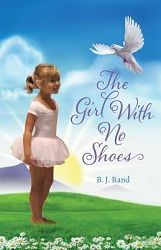 Title:
The Girl With No Shoes
Author:
B.J. Rand
Published:
August 15/14
Length:
162pgs
Format:
ecopy
Genre:
children's fiction
Shelf:
review
Rating: ★★★★
Back Cover Blurb:
"The path is wide, the grass grows high on either side. It is the path that Arielle follows with her dog Britches when they go to their secret place in the woods."
Discover your passion with B.J. Rand's inspirational debut, "The Girl with No Shoes."
Arielle is a young girl who, with her dog, Britches, and her cat, Nosey, explore their secret hideaway called "The Hollow."
But one day, Arielle and her companions encounter a young girl sitting all alone in The Hollow-and without any shoes!
The girl's name is Francesca, but she is soon summoned out of the woods by an angry voice. Before she goes, however, she promises to come back to The Hollow the very next day.
The group becomes fast friends, and Arielle, Nosey, and Britches make it their mission to find Francesca a suitable pair of shoes.
Soon they come across a pair shoes for Francesca.
Francesca promises to repay her friend's kindness by taking them on a magical journey to the place where magic began.
My Review:
This was a well written, well thought out, approachable story. It is ideally suited to school aged children with a desire for adventure and who enjoy using their imagination. Even as an adult I was able to appreciate this story. It was a quick, light read with a very pointed message winding its way through the story. The story is fun and magical. I loved the way that the author inspires you to use your imagination, bringing the story to life.
The characters in this tale were ideally suited to the intended audience. Magical beings and talking pets take centre stage in a manner that will entice children. Their adventures and actions sparked my interest. I appreciated how they were on their own in this novel, without unending parental guidance, yet were never in any sort of danger or trouble.
This story is definitely different from my usual reads, but I found it an enriching change of pace. Rand captivated me with her magic & had me thinking about what was, is, and could be.