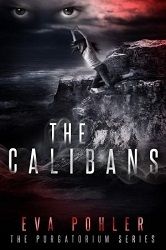 Title:
The Calibans
Series:
The Purgatorium #3
Author:
Eva Pohler
Published:
February 25/15 by Green Press/Eva Pohler
Length:
296pgs
Format:
ecopy
Genre:
YA fiction
Shelf:
review
Rating: ★★★★
Back Cover Blurb:
Daphne returns to the island to save her best friend, Cam, and the other "Calibans" who've been brainwashed by Dr. Gray, but, once again, things aren't what they seem. Daphne's entire world comes crashing down along with the Purgatorium when federal ATF officers arrive with a warrant during a dangerous exercise. What she believed to be so isn't, and the blurry line between art and reality leaves her reeling.
My Review:
What a rush! Pohler had me engaged throughout, intellectually, emotionally, & imaginatively. This novel is well written & edited. Pohler's inviting and up beat writing style really allows you to connect with the characters. The fast paced story kept me on my toes. It was intensely and shockingly thought provoking. I thoroughly enjoyed the melding of psychology with adventure and risk taking. The flashbacks at the beginning really upped the intensity of the tale. I will warn readers, however, that they really need to read the rest of the series for context on this one.
The characters in this novel were fantastic. I loved how some were the same individuals that we've come to know and love (or hate) in the first two novels of the series. Others have 'taken off their masks' and revealed their true selves. I loved how Pohler showed the correlation between the two. Everyone's actions and reactions were so genuine. Not only did I feel as if I'd met these individuals, they drew me in so that I felt as if I was on the island alongside them.
This was a great conclusion to this fantastically unique and wildly thought provoking series. Pohler brought everything to an exciting conclusion while still giving us hope for the future.
Goodreads
~
Shelfari
~
Amazon
~
B&N
~
Indigo
~
Google Play
~
Smashwords
Readers new to the series can also start it with The Purgatorium for FREE