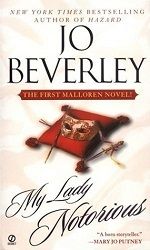 Title:
My Lady Notorious
Series:
Mallorens & Friends #1
Author:
Jo Beverley
Published:
July 1/02 by Signet (1st published 1993)
Length:
371pgs
Format:
eccpy
Genre:
historical romance
Shelf:
borrowed
Rating: ★★★★★
Back Cover Blurb:
Desperate to help her widowed sister and baby escape a deadly pursuer, Lady Chastity Ware dresses as a highwayman and captures the first coach to travel down the road. Coming face-to-face with its occupant, the arrogant aristocrat, Cyn Malloren, she orders him to drive her to a remote cottage.
Little does Chastity realize that after long months of recovering from his war wounds, the handsome Cyn is looking for adventure, and being abducted by a cocky highwayman—obviously a lovely woman in disguise—is even more than he had hoped for. Willingly he is drawn into her devilishly reckless plan...and helplessly he is seduced by her wonderfully wicked ways.
My Review:
Beverley is a natural storyteller. She had me laughing from the first chapter. This fantastic story took me on an unforgettable journey , both in character growth and exciting plot. Beverley combines period correct settings with an unimaginable story to create a tale that readers will adore. It is simultaneously sweet, sassy, & spicy. And of course, I may never look at food quite the same way again…
I don't know who's more priceless, Cyn or Chas. They're both such unusual individuals. I thoroughly enjoyed getting to know these two, and was actually sad when their story ended. They captured my heart immediately, and took me on a wild adventure alongside them. The supporting cast was also quite lively. Beverley developed everyone so completely that I felt as if I had visited with them. I will warn you, however, that this cast of characters will evoke strong reactions in the reader.
This author has the heart of a true bard. Beverley had me entranced from the first page to the last. I'm so glad to have read this novel and can't wait to read the next in the series.