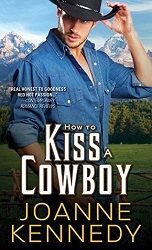 Only At The Rodeo by Joanne Kennedy
My newest romance, How To Kiss A Cowboy, features a charismatic cowboy whose carefree life is changed forever by a night of unexpected passion with a barrel racer. Brady Caine falls hard for Suze Carlyle, but she's figures he's not expecting anything more than a one-night stand. Besides, she's too busy galloping to the top of the rodeo standings to take time for a relationship with a heartbreaker like him.
The two go their separate ways, but when they ride together at a photo shoot for a Western wear company, Brady carelessly causes an accident that threatens to end Suze's career. He swears he won't leave her side until she's back in the saddle, but getting past her stubborn pride isn't easy—especially since he's the one man in the world she never wants to see again.
Suze is heartbroken because she doesn't think she will ever be a part of the rodeo again—and that would be a shame. Crowds flock to rodeos to be entertained, but there is more to these events then just thrills and fun. These are also places where people come together for companionship and belonging.
When someone asks me the kind of activities you can only see at a rodeo, there is the temptation to offer pat, easy answers to this question. Where but at a rodeo could you see a clown jump over a bull, or a man dive off a hard-running horse onto the horns of a racing steer? However, I like to focus on a different rodeo, a special one that's held every year at Cheyenne Frontier Days. Even though prize-winning cowboys are involved, not many folks attend this rodeo, but in my opinion, it's the best part of Frontier Days.
I'm talking about the Challenge Rodeo, a morning event where professional rodeo cowboys help disabled children enjoy the fun and excitement of rodeo. You'll see rides there that make you laugh and cry at the same time, along with triumphs that make your heart swell with pride—and you'll see moments so sweet you can feel your heart tearing in two.
Here are just a few things I've seen at the Challenge Rodeo—things I've never seen anywhere else.
·
I saw the pride in the eyes of a little boy with Down Syndrome as he learned the fine art of roping from a couple of PRCA champions. He missed the roping dummy a lot, but he got that rope thrown every time, and that was enough for him. His smile was big enough to power the whole arena.
·
I saw sunshine light up a little girl's face as she rode a slow but steady circle on a sweet and patient horse. Autism has transformed this child's world into a chaotic circus of overstimulation, but from the back of that horse, she was able to literally rise above her disability and feel the bliss of controlling something larger than herself.
·
I saw two cowboys help a little boy out of his wheelchair and into the saddle of a bucking dummy. When the cowboys started rocking that saddle, he griped the horn with both hands—but with their encouragement, he finally let go with one hand and lifted his hat high in the air, just like a real bronc rider. His face was shining with triumph and pride as he waved that cowboy hat and let out a big yee-haw.
·
I saw a little boy order a horse to "giddy up." That doesn't sound very exciting until you realize this child is almost completely non-verbal. He rarely speaks, but the excitement of riding a real horse helped him cowboy up and tell that horse who was boss. It's just one step along a long, hard road, but it's a step, and his parents were tearfully proud.
·
I saw cowboys at their very best. There's nothing more attractive than a man who's kind to children, and these rodeo pros lifted every child with gentle hands and celebrated their accomplishments with whoops and hollers that made the kids glow. They treated these special kids as if they were their own—and when the rodeo was over, I saw something you never see anywhere but at the Challenge Rodeo: I saw a big, strong cowboy cry.
Whether it's the challenge rodeo or the real deal, there are many moving moments at the rodeo—a long-awaited victory, an act of generosity or kindness, or a ride that makes the record books. What have you seen at a rodeo that brought a tear to your eye?
Joanne Kennedy's lifelong fascination with Wyoming's unique blend of past and present inspires her to write contemporary Western romances with traditional ranch settings. In 2010 she was nominated for a RITA award for One Fine Cowboy. At various times, Joanne has dabbled in horse training, chicken farming, and bridezilla wrangling at a department store wedding registry. Her fascination with literature led to careers in bookselling and writing. She lives with two dogs and a retired fighter pilot in Cheyenne, Wyoming.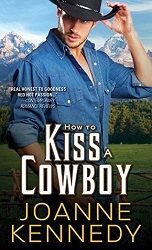 Title:
How To Kiss A Cowboy
Series:
Cowboys of Decker Ranch #2
Author:
Joanne Kennedy
Published:
February 3/15 by Sourcebooks Casablanca
Length:
480pgs
Format:
ecopy
Genre:
contemporary western romance
Shelf:
review
Rating: ★★★★
Back Cover Blurb:
Between rodeo wins and endorsement deals, Saddle Bronc Champion Brady Caine is living a charmed life. But when he causes an accident that could end a promising barrel racer's career, he decides that he's done with loose women and wild rides. All he wants to do is erase his mistake by getting Suze Carlyle back in the saddle.
The last person barrel racer Suze wants to see on her doorstep is the man who ended her rodeo career, but she can't help admire Brady's persistence. Sparks fly between them, but when her barn is sabotaged she wonders if he's really the straight shooter he seems to be…
My Review:
This story is fast paced and exciting, while also sweet & romantic. Kennedy writes some sinfully hot scenes to top this off. Her inviting writing style makes you want to keep reading. The story is comically addictive at times and so easy to picture. At other times, Kennedy tugs at your heart. I loved all of the action with the horses. Kennedy gives her readers a quick pick at the life of rodeo competitors, showing that it's not all ribbons and checks.
The main characters in this novel were quite intriguing. Readers really get to see how their early lives shaped who they are today. The strength that you can see in both of these well-developed individuals was endearing. The supporting cast was also very important to the plot of this story. The contrast between blood relations and family was fantastically well done. I couldn't tolerate the father in this story, which actually made the story that much more poignant. He heightened my connection with the main characters. Even when we found out the rationale behind his actions I still couldn't relate to him.
As a whole, this was a great read that really put me in the spirit of competition and of family life. It was a well written, well plotted tale that I'd definitely recommend to others.
And before you go...
Be sure to enter this tour wide giveaway.