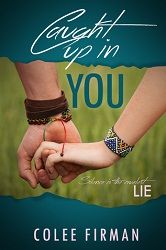 Title:
Caught Up In You
Author:
Colee Firman
Published:
December 15/14
Length:
299pgs
Format:
ecopy
Genre:
NA romance
Shelf:
review
Rating: ★★★★★+
Back Cover Blurb:
Life has a way of shaping you into what it wants you to be, regardless of how much you fight it.
Brantley Prescott is damaged. Scarred by a past she can't forget. Hiding secrets she's terrified to share. Searching for a future she doesn't believe she'll ever find.
Myles Franco is alone. Burdened by mistakes he'll never live down. Fostering a deep resentment for the opposite sex. Unleashing his wrath on any girl who gets too close.
Brantley has worked behind the bar long enough to recognize Myles for what he is—a douchebag player with nothing on his mind but keeping a steady stream of girls flowing through his bed. With his messy dark hair, sapphire blue eyes, rock-solid body, and endless tattoos he's impossible to ignore. But that's exactly what she plans on doing.
After just one run-in with Brantley, Myles is even more determined to stick to the rules he lives by. She's mouthy, blunt, and doesn't back down—no matter how hard he pushes her. She could turn out be the one temptation that drags him down the path he's been trying to avoid. He won't let that happen.
Both are content living behind the solid walls they've built around themselves. Neither is prepared for what happens when their lives collide.
Due to sexual content and graphic language - 17+ recommended.
My Review:
This novel was intensely thought provoking. Firman kept me emotionally on edge throughout. She develops a very hard hitting novel that is about so much more than simply coming of age and stepping out on your own. The storyline was also entertaining. I really enjoyed reading this, even when it made me cry. That said, the author also made me laugh at least as many times.
Not only were the characters in this novel intricately crafted but they were loveable and unforgettable. They're the type of individuals that you can't stop thinking about when the story ends. The variety of issues that they've had to deal with from their past, be they of their own making or from external forces, was shocking. I also enjoyed getting to know the supporting cast. Firman does a brilliant job of developing them in such a manner that you can't wait to come back to them in future novels of the series.
As a whole this was a fantastic, emotional story that captured my heart & my attention throughout. It's the perfect start to Firman's new series & I can't wait to read more.