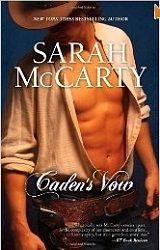 Title:
Caden's Vow
Series:
Hell's Eight #6
Author:
Sarah McCarty
Published:
November 20/12 by Harlequin HQN
Length:
382pgs
Format:
ecopy
Genre:
historical western romance
Shelf:
bought
Rating: ★★★★
Back Cover Blurb:
His past has haunted him for a lifetime…but one woman could be his salvation
Gunslinger Caden Miller's compadres are becoming a bit too domesticated for his liking. So he's off to Kansas territory to carve out a living and a space of his own—alone, just the way he likes it.
Maddie O'Hare has been drawn to Caden ever since she escaped to the Hell's Eight compound from the brothel where she was born and raised. And she's not ready to let him go so easily…until she's captured by his new neighbors.
When Caden discovers that Maddie is being held by a rival at a nearby ranch, his plan to rescue her backfires, and he finds himself the groom in what's literally a shotgun wedding. As shocked as Caden is by the bizarre turn of events, Maddie's grateful kiss holds a fiery promise that's far more unexpected. But with old enemies catching up with him, Caden and Maddie will face a danger that tests their passion—and will either bind them together forever or break them apart for good.
My Review:
McCarty returns us to the Wild West and the Texas territory with a vengeance! Her vivid descriptions bring this world into sharp focus for readers. She firmly transports her readers back into the past, to a time that was simultaneously easier and so much harder than today. She does so in a clear and concise manner. McCarty's narrative and descriptions easily bring this world to life. This story is very emotional at times. McCarty brought tears to my eyes more than once. She also made me laugh, especially while doing the term 'shotgun wedding' justice.
By this point in the series everyone is so real & alive to me that I feel as if I've lived alongside them on Hell's Eight. These men, this family, has become part of me, as has the thought that family is the people who will always stand for you, no matter what. The main couple in this novel definitely stood out in this one. The growth and change in Maddie throughout was fantastic. The way that McCarty developed her really gave a sense of all that she'd been through, and who she really is. Caden's reactions were so priceless and genuine that you can't help but love him, even when you want to call him out for being a dolt.
This exciting story held me in its grips throughout. McCarty's continued development throughout this fantastic series had definitely held me in its grips. It was a joy to read & I can't wait to see what happens next.