ALMOST PERFECT THERAPY
by Diane Daniels Manning
The young hero of ALMOST PERFECT is a twelve year-old boy with anger issues related to his parents' divorce. He also has mild autism which comes out in his difficulty learning traditional school subjects and ADHD. In my "day job," I work as a therapist at The New School in the Heights that I co-founded ten years ago. Obviously, that work informed the therapeutic school Benny attends, as well as the scenes where Dr. Kate has "meetings" with him, but the two are different.
Benny is a made-up boy. Almost none of the children at my real school have autism unless it is Asperger's which is what they call "on the spectrum." (The minor character of Adam has Asperger's, but Steffie does not). Benny exhibits feelings similar to many children of divorce who long for their parents to get back together, many of whom go on to resolve their disappointment, as does Benny. His anger, like most other angry children's, actually hides sadness. As Benny's sadness abates, he can go on to develop his own talents.
In ALMOST PERFECT, I try to raise the serious issue of mislabeling and over-labeling young children with psychiatric diagnoses. Steffie's mother is so worried and anxious about her daughter that she latches onto a label that she thinks will "cure" her daughter. While diagnoses can be important (especially to insurance companies), my experience is that one needs to treat the symptoms the child is exhibiting no matter what the "real" diagnosis might be, so our school focuses on diminishing symptoms. Many children who are diagnosed with ADHD, especially, are primarily suffering from acute anxiety. For a parent, it is more difficult to think one's child is suffering from anxiety than from an inborn problem.
It has been a tremendous blessing in my life to have been entrusted to work with very special children by their parents.
If you would like to know more about the real life therapeutic school in Houston, visit
www.newschoolheights.org
.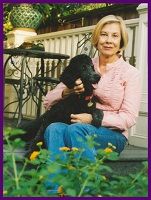 About the author:
Diane Daniels Manning is the co-founder and director of The New School in the Heights, a therapeutic school in Houston, Texas which helps children dealing with social-emotional challenges find success in school and life. She has a Ph.D. in Education and a post-doctoral M.P.H from Harvard and is a practicing child psychoanalyst certified by the American Psychoanalytic Association. Formerly, she was the Director of the Reading and Learning Disabilities Clinic at Tufts University, Lecturer and Research Associate in the Department of Behavioral Sciences at Harvard, and Chair of the Department of Education at Tulane University. She learned the inner workings of dog show kennels by writing an authorized oral history of a lifetime President of the Poodle of Club of America. Her writing awards include the Faulkner-Wisdom Novella Prize and the Women in Film and Television Short Script Competition.
When not at The New School, Diane and her writing partners, a Standard Poodle named Misty and a rescue cat named Elvira, convene at the keyboard to share great thoughts and plan the dinner menu.
Connect with her:
Website
~
Twitter
~
Facebook
Title:
Almost Perfect
Author:
Diane Daniels Manning
Published:
September 20/14
Length:
340pgs/9hrs4mins
Format:
audio book
Genre:
contemporary literature
Shelf:
review
Rating: ★★★★
Back Cover Blurb:
Two unlikely friends, an old woman and a boy with special needs, take an aging champion to Westminster Dog Show, and heal their troubled families.
Seventy year-old Bess Rutledge has fantasized about winning the Westminster Dog Show all her life, but now she has decided she is too old to follow her dream. She meets Benny, an angry fourteen year-old with mild autism and ADHD, who has a dream of his own: to impress his self-absorbed mother. He becomes convinced that winning Westminster with McCreery, Bess' aging champion standard poodle, will finally make his mother proud of him. Getting Bess to go along with his plan, however, is not going to be so easy.
My Review:
This was such a cute & sweet story. I loved how Manning told a story of families coming to know one another on a deeper level amidst the nerves and chaos of dog shows. I thoroughly enjoyed the fact that this novel didn`t race to the conclusion, as well as the fact that the conclusion wasn`t the one that I expected. The well-developed plot combined with Manning`s eloquent narrative & descriptions were a treat. Manning takes THE dog show and sets it as the backdrop for a fun, funny, and at times tearful story about being yourself, no matter your age, and encouraging others to do the same. The entire last hour of the audio version had me in tears. They were good tears, but definitely tears none the less. All may not have ended the way the characters had imagined it, but it was the perfect ending for this heartfelt tale.
Manning has definitely developed a very diverse cast for this novel. Not only are the characters genuine, but the interconnectedness of their actions is the heart of this story. She shows the complexities and intricacies of relationships, both dog-human and human-human in such a manner that it not only provides insight into the characters but also captures your heart.
Manning definitely had me wanting to start showing dogs, or to at least go to a dog show, by the end of the novel. The world that she created was so alive, vibrant and inviting that I would have loved to join in. This novel is the perfect fit for anyone who enjoys pets, people, or who is looking to read something about life and being yourself.
Did you know that this heartfelt novel revolves around the Westminster Dog Show? This year that show takes place February 16th & 17th​. Find out more about it here.


And, before you go, be sure to enter this tour wide giveaway!