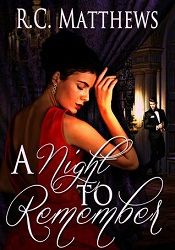 Title:
A Night to Remember
Author:
R.C. Matthews
Published:
October 27/14
Length:
220pgs
Format:
ecopy
Genre:
contemporary romance
Shelf:
review
Rating: ★★★★
Back Cover Blurb:
Going once...going twice...and the irresistible Anna Karenina goes to...
When Brett Montgomery is forced to attend a New Year's Eve charity event for his law firm, he is deliciously surprised to learn that the Irresistible Women in History Auction has been organized and hosted by the woman he desired more than any other during his college years. Beautiful, sexy, and seemingly immune to his charms, Anna was the only woman to refuse him, and the only one he wanted to claim. Finding her again, posing as the alluring Anna Karenina, he wins her for the night. But that's not enough. They share many of the same passions in life and love, and Brett is determined that he'll have no other woman by his side.
Anna Cosgrove has spent her life helping others. She is a giver, a self-sacrificing champion of great and humanitarian causes. She's pledged to help her best friend in his mayoral pursuits by posing as his fiancée and marrying him. In return, he'll give her the greatest gift she could ever hope for before her time runs out. But when her old college crush attends her charity event to fight for her hand, and wins, she decides to give in to her own desires. For one night, she will be his. When the morning comes and she must say goodbye, she realizes that her one night of selfishness has cost more than she bargained for. Her heart.
The pieces are set. The stakes are high. There is more to lose than gain. Should they risk moving forward? Or leave their hearts and wishes behind in the place where they shared something magical, where they embraced A Night To Remember...
Intended for readers 18+ due to sexual content.
My Review:
I felt enchanted, like Cinderella at the ball, just reading this story. This novel was both sweet and funny. Matthews' unique and at times off the wall premise was not only possible, but something that you can easily see happening. I thoroughly enjoyed the way that she works some difficult topics into this story, making you think about them without ever really focusing on them. Inner city life, cancer, child abuse, sexual orientation, among others, all make their way into this tale, making it all the more poignant.
I really enjoyed the complexity of characters in this story. No one is quite as they seem, and each is working towards a better world for those around them, regardless of the cost to themselves. Anna & Brett were fantastic. Their relationship was difficult yet inviting and unique. Jorge's personality grated on my nerves at times, which is exactly how it should be. All the me, me me, I, I, I was so stereotypically politician and it also really made my heart go out to Brett.
As a whole, this was a very funny, sweet, and intriguing tale. I found myself enjoying it from beginning to end. This is a great romance for those looking for something a little different, while still keeping true to the genre.
Goodreads
~
Shelfari
~
Amazon
~
B&N
Be sure to enter to enter the giveaway for 2 MOBI copies of A Night to Remember by R.C. Matthews.
Contest is open internationally, where applicable by law.
Entries close at 11:59pm EST Feb 13/15.
Winners will be announced Feb 14/15.
Winners will have 72h to claim their prize or another winner will be drawn.