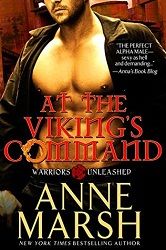 Title:
At the Viking's Command
Series:
Warrior's Unleashed #2
Author:
Anne Marsh
Published:
November 3/14 by Anne Marsh
Length:
96pgs
Format:
ecopy
Genre:
paranormal romance
Shelf:
Netgalley
Rating: ★★★★
Back Cover Blurb:
Tyra didn't ask to become a werewolf and all she wants is to get on with her life. But when a prophecy foretells that the werewolves will bring about Ragnarok, the Norse end of the world, the entire paranormal world is gunning for her new Pack.
A mercenary and soldier of fortune, Calder clawed his way to the top of the Viking world and he'll defend his brothers-in-arms to the last breath. But nothing could have prepared him for the newly turned werewolf who demands his help.
Calder doesn't trade sex for favors, but there's no denying the intense sexual chemistry between them and soon the lines between duty and pleasure blur. But if Tyra wants to keep her Viking, first she'll have to learn the sweet pleasures of submission…
My Review:
This novella is fast paced from the first sentence to the last. Marsh really allows readers to understand the world that her characters find themselves in. Her descriptions and narrative bring the world to life, while her characters bring the upcoming crisis to the forefront of your mind. Throw in some racy scenes and a dash of emotion and you have it. I also thoroughly enjoyed the melding of Norse mythology with shifters as well as the modern day. It really set this story apart from the rest for me.
Marsh employs some intricate character development that shows you not only how the main character is perceived by others, but also how they see themselves. The split between what they feel they should do and what they really want is quite compelling. The supporting cast isn't overly developed, but in a novella one wouldn't expect them to be. They do serve to round out the story nicely, adding to the tension of the tale.
Overall, this was an enjoyable, quick read. It's great for those looking for a quick trip away from the everyday, complete with heat, sass, and some paranormal fun.