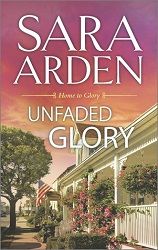 Title:
Unfaded Glory
Series:
Home to Glory #2
Author:
Sara Arden
Published:
January 27/15 by Harlequin HQN
Length:
352pgs
Format:
ecopy
Genre:
romantic suspense
Shelf:
Netgalley
Rating: ★★★★★
Back Cover Blurb:
In Glory, Kansas, a fairy-tale wedding has local tongues wagging. But through this false engagement, can a wounded warrior and the woman he's protecting find true love?
Byron Hawkins doesn't want to be responsible for anyone ever again. The former Black Ops soldier is better at taking lives than saving them. But on mission in Tunisia to deliver a package to safety, Hawk is dismayed to find that the precious cargo is actually a hostage rescue, and that his orders are to take Princess Demara Petrakis back to US soil and hide her in plain sight—as his newlywed wife.
Back in Hawk's hometown of Glory, Kansas, petite, fierce Demara keeps surprising him; she may be royalty, but she's fully trained in martial arts and will sacrifice anything for her country. As the town rallies around the returning hero and his bride, he's finding that it's way too easy to play the part, and after the hell he has seen, that terrifies him. Hawk didn't want another life to save, but the passionate beauty he's sworn to protect might just turn the tables and save him, instead.
My Review:
This novel was wildly heart-warming, exciting, and exhilarating. A fairy tale romance come to life. My heart was on the line through the entire story, waiting for the other shoe to drop and praying it wouldn't. Arden made me laugh a time or two and cry once or twice as well. The story is well & intricately written, full of romance, action, and suspense. She develops her story in such a manner that readers can easily picture the characters in each of the locales they find themselves in.
I quite enjoyed the characters that we met in this novel. They were well developed and well-rounded individuals. And I mean, really, how can you go wrong when you pair a princess with a backbone with a troubled Army Ranger? Even more than that, these two were genuinely approachable individuals. Arden goes the extra mile to develop the two characters. Both have pasts that they are struggling against, and getting to know them at such an intimate level added a great deal to the story. Arden lets you know what makes them tick as they get to know one another. Surrounded by this cast of individuals who all seem to want something from them, you have a couple that you'll find yourself rooting for.
This novel is definitely a fantasy come to life. I wouldn't hesitate to recommend this novel to those who enjoy romantic suspense. It was a fantastic read. It can also easily be read as a standalone if you haven't read the first novel in the series yet.