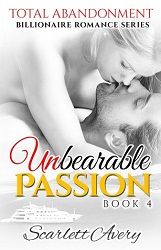 Title:
Total Abandonment
Series:
Unbearable Passion
Author:
Scarlett Avery
Published:
January 6/15 by Absolutely Naughty Publishing
Length:
107pgs
Format:
ecopy
Genre:
erotic romance
Shelf:
review
Rating: ★★★★
Back Cover Blurb:
Women are losing their heads and panties over the naughty adventure between former real estate queen turned escort Sofia Herrera and billionaire Bryce Van Der Linden.
In Unbearable Passion, Total Abandonment, Scarlett Avery concludes the sensual, sexy and steamy romantic erotica for women.
My Review:
This novella was a nice conclusion to Avery's Unbearable Passion series. It wraps up all of the different aspects of the story while at the same time taking you on quite a journey. Avery's story here is both hot & intricate. Although based around the relationship between the main characters, there is so much more going on as well. It was a joy to unravel. There is also a natural flow to the dialogue, allowing readers to feel like they're really alongside actual people.
I've really come to like the cast of characters throughout this series. The heroine's vulnerability is simultaneously poignant and over the top. Her beliefs about herself and those around her really shine through. It is an essential aspect of who she is. It also becomes all the more apparent when placed against such a self-assured male lead. Together they create quite a couple, one that you won't soon forget.
I thoroughly enjoyed this conclusion to the Unbearable Passion quartet. I also loved the hint as to what comes next. I, for one, definitely can't wait to read more from this uniquely creative author.