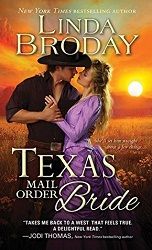 Title:
Texas Mail Order Bride
Series:
Bachelors of Battle Creek #1
Author:
Linda Broday
Published:
January 6/15 by Sourcebooks Casablanca
Length:
352pgs
Format:
ecopy
Genre:
historical romance
Shelf:
Review
Rating: ★★★★★
Back Cover Blurb:
Rancher Cooper Thorne thinks his life is finally on an even keel—until Delta Dandridge steps off the stagecoach and claims she's his mail order bride. Brash and quick-witted, the meddling Southern Belle is everything Cooper thought he never wanted…and everything his heart is telling him he needs.
But Cooper swore long ago that he'd never marry, and he aims to keep his word, especially now that the demons from his past have returned to threaten everything—and everyone—he holds dear…
Excerpt:
Delta covered the space between them so quickly Bandit scurried for safer territory. She glared up into eyes that reminded her of a cold winter's day. "I can't believe this. You have a lot of gall, Mr. Thorne. The way I see it, you gave up your right to meddle in my affairs when you told me in no uncertain terms that you weren't looking for a wife. Therefore, what I do is none of your concern. If I want to—"

"Do what?" Cooper brushed her cheek with a fingertip. "Women like you won't throw your reputation to the wind. You want it all or nothing."

She glared. "You're awfully sure of yourself."

"I know more than you think." His words were soft. "I see the yearning for permanence in your eyes. Dear God, you're a difficult woman to forget."

Cooper tugged her against his lean body, lowered his head, and pressed his sensual lips firmly on hers. The long kiss held passion and promise and warmth. Delta's breath got caught somewhere between the need for more and wishing she'd stayed in town, far away from men who indulged in contradictory behavior.

Her knees grew weak and she clutched the shirt covering his broad chest to keep from falling as the world tilted on its axis.

As the kiss deepened, their breaths mingled in a heated flurry while blood pounded in her ears. She heard a low moan and realized it came from her. Strange how it sounded so very far away.

Her stomach whirled and dipped as though she'd fallen from a great height. Tingles raced up her spine in some kind of mindless confusion. The anger that had propelled her into dangerous territory melted away and left a strange desire in its wake. Before she could unclench her hands from his shirt to take a step back, he released her.

The kiss ended suddenly, leaving her wanting more.

Cooper's sinful half smile turned her knees to jelly. "And that, Miss Delta, is how we do things here in Texas."
About the author:
Linda Broday resides in the panhandle of Texas on the Llano Estacado. At a young age, she discovered a love for storytelling, history, and anything pertaining to the Old West. Cowboys fascinate her. There's something about Stetsons, boots, and tall rugged cowboys that get her fired up! A New York Times and USA Today bestselling author, Linda has won many awards, including the prestigious National Readers' Choice Award and the Texas Gold Award. She blogs regularly at
www.PetticoatsandPistols.com
. Visit her at
www.LindaBroday.com
.
Broday brings the trials of the west to life in a vividly real manner. Her quietly picturesque descriptions allow readers to visit this town. Her writing tone and style takes you back to old Texas. The harshness of the land and times shine through but the characters' persistence and love for one another capture your heart. Top this off with an exciting and suspenseful story and you won't be able to put this one down. Broday has definitely created a complexly multifaceted romance that definitely stands out.

This story started out as a bit of a comical comedy of errors that endeared me to the characters. Broday lets you in on her characters' inner thoughts so that by the end of the novel you feel like you've spent time with old friends. And this doesn't just refer to the main characters. I felt like I was part of this town, getting to know all of its inhabitants. It was a wonderful feeling.

This is the type of story that has you thinking about it all day and rushing home from work to finish reading it. I wouldn't hesitate to recommend it to others and will be waiting with baited breath for the next novel in the series.
And before you go! Be sure to enter this fantastic giveaway.