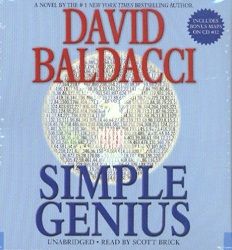 Title:
Simple Genius
Series:
Sean King & Michelle Maxwell #3
Author:
David Baldacci
Published:
Recorded Books (first published April 24/07)
Length:
432pgs
Format:
audio book
Genre:
thriller
Shelf:
borrowed
Rating: ★★★★
Back Cover Blurb:
In a world of secrets, human genius is power.

And sometimes it is simply deadly...

A three-hour drive from Washington, D.C., two clandestine institutions face each other across a heavily guarded river. One is the world's most unusual laboratory, whose goals and funding are a mystery. The other is an elite CIA training camp shrouded in secrecy. Now a man and a woman are about to run a gauntlet between these two puzzle factories, straight into a furious struggle to exploit a potentially world-shattering discovery--and keep some other secrets underwraps forever...

Former secret service agents turned private investigators Sean King and Michelle Maxwell have seen their lives splinter around them. Michelle lies unconscious in a hospital bed after a night of suicidal violence. And Sean is forced to take on a thankless investigation into the murder of a scientist just inside the CIA's razor-wire fence near Williamsburg, Virginia.

Soon he is uncovering layer after layer of disinformation that shields a stunning world filled with elite mathematics, physicists, war heroes, spies, and deadly field agents. Amid more murder, a seemingly autistic girl's extraordinary genius, and a powerful breakthrough in the realm of classified codes, Sean soon learns enough to put his life at risk. Now more than ever, he needs Michelle--at her best--to help stop a conspiracy of traitors operating in the shadow of the White House itself.

From Michelle's courageous struggle to defeat her long-buried personal demons to a centuries-old secret that surfaces in the heat of action, SIMPLE GENIUS pulses with stunning, high-intensity suspense. The heroes of Split Second and Hour Game, David Baldacci's #1 New York Times bestsellers, are back--as you've never seen them before.
My Review:
Wow! Just wow! This novel engaged me on multiple levels. I loved the variety of components that made up this novel. Suspense, action, intrigue, and science all make their way into it. Baldacci's intricate writing really enticed me. Not only was I caught up in the action of the tale, I was also trying to unravel the mystery and was completely smitten with the science.
The characters were fantastic. Even though this isn't the first novel of the series, Baldacci develops his man characters in such a manner that readers can get to know them from here, without rehashing past events. They were remarkably well developed individuals, so real and human and complex. I found myself drawn to them. I also enjoyed the variety of secondary characters that we get to know. The diversity of cast really allows you to see all off the sides of the story.
I'll admit that this was my first foray into the world of Baldacci's writing but it definitely won't be my last. I was completely enamoured with this tale. He had me hooked every step of the way.