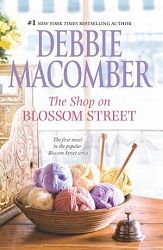 Title:
The Shop on Blossom Street
Series:
Blossom Street #1
Author:
Debbie Macomber
Published:
May 1/05 by Mira Books (1st published April 27/03)
Length:
393pgs
Format:
paperback
Genre:
contemporary romance
Shelf:
bought
Rating: ★★★★★
Back Cover Blurb:
Bestselling romance author and ardent knitter Debbie Macomber combines both her skills in this novel about a newly opened Seattle yarn shop and the knitting class that brings four women together to make baby blankets. The owner of the shop and her three students produce more than blankets, knitting together bonds of solidarity, friendship, love, hope, and renewal. The book even includes the pattern for the blanket, which was created by premier knitting designer Ann Norling.
When Lydia Hoffman, a cancer survivor and owner of A Good Yarn, starts a knitting class for her patrons, she forms a special friendship and bond with three extraordinary women--Jacqueline, Carol, and Alix--and together they share laughter, heartbreak, and dreams.
My Review:
The way that Macomber tells this story in the first person really makes you feel like you're hearing a story from a friend rather than reading a book. She unequivocally invites you into her world. She brings life's highs and lows together in a way that warms your heart.
I learned a great deal about yarn and knitting throughout. It was built right into the story, intrinsic to the lives of the characters. I was astounded by the way this was so seamlessly worked into the tale. It definitely added extra depth to the tale for me. Macomber not only made it interesting, but she also made me want to give it a try.
This novel is full of lifelike characters that make their way into your heart. They're the type of people that once you meet them, you won't ever forget them. I enjoyed how Macomber showed the four different characters' perspectives. The intertwining stories alongside each other were amazing. I will admit that there were a couple that I disliked at the beginning, but throughout the novel they grew on me.
This novel was a fantastic start to Macombers Blossom Street series. She drew me into this world and I can't wait to go back.