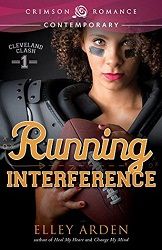 Title:
Running Interference
Series:
Cleveland Clash #1
Author:
Elley Arden
Published:
January 19/15 by Crimson Romance
Length:
182pgs
Format:
ecopy
Genre:
contemporary romance
Shelf:
review
Rating: ★★★★★
Back Cover Blurb:
In an exciting new series from Elley Arden, it's sports romance with a twist, when an independent, tough-talking female football player joins forces with her high-profile, hotter-than-hell friend to save her father's boxing gym.
Even when she's playing offense, defense is the name of the game for Cleveland Clash offensive linewoman Tanya Martin. After watching her family and friends struggle with relationships and the strings they leave behind, she has one unflappable goal: "Protect this house. Protect this heart." The motto takes on new meaning when her father's beloved gym is threatened with foreclosure and help appears in the form of her high school friend Cam Simmons, who rolls into town after a Super Bowl win and a five-year absence, looking like the one man who could test her resolve.
More comfortable in the spotlight than in the gritty surroundings of his hometown, Cam Simmons dreads the off-season visit that comes with the ulterior motive of convincing his mother to move. But things change when he reconnects with Tanya. The more time he spends with the sexy, sarcastic woman, who is as determined as ever to stay single, the more he can't resist the challenge. Until, becoming friends with benefits has her running away, and a bachelor auction to save the gym has him in the sites of a woman who could ruin everything.
Elley Arden is a born and bred Pennsylvanian who has lived as far west as Utah and as far north as Wisconsin. She drinks wine like it's water (a slight exaggeration), prefers a night at the ballpark to a night on the town, and believes almond English toffee is the key to happiness.
Charming characters. Emotional stories. Sexy romance.
My Review:
This is a very real story that readers become part of. The sweet romance combined with the hardships of life was very well done. The lives of the rich and famous combine with hometown families and pride in a way that tugs at your heart. I love the focus on women in sports, a very underappreciated and underexposed focal point for novels. The contrast between men's and women's pro football was quite poignant. Arden, writing with her usual well-polished, light-hearted style combines this all into an unforgettable package.
The main characters in this novel definitely carry the story well. The heroine's hopes and fears define who she is and how she lives her life. I really enjoyed seeing our hero remember his roots & what made him who he is today. These aspects not only define who these characters are as individuals, but also how they come together as a couple. Their mutual histories are also quite intriguing, allowing readers to understand how these individuals came to be who they are today. The supporting cast in this novel was quite well developed as well. I enjoyed getting to know them in the context of their relationships with the main characters. The local slang is apparent in the dialogue and flows naturally. It definitely adds to the entire aura of the story and to how readers perceive these individuals.
This is definitely another winner from Arden. It is a great start to a fantastic new series that I'm very excited about.
Daily #giveaways and 1 Grand Prize up for grabs during the blitz for RUNNING INTERFERENCE, a Cleveland Clash novel by Elley Arden!
Female professional football player Tanya Martin enlists the help of childhood friend and Super Bowl MVP Cam Simmons to help save her father's financially strapped boxing gym and in the process loses her carefully guarded heart.
To celebrate the release of her new series, Cleveland Clash, with the first novel, RUNNING INTERFERENCE, Elley is doing daily #giveaways on each day of the review blitz! On Monday, Wednesday and Friday, winners will receive a digital copy of one of Elley's backlist titles. On Tuesday and Thursday, winners will #win a $10 gift card to Amazon or Barnes & Noble (winner's choice). Daily drawings will be held at 4:00pm EST and winners will be announced on Elley's Facebook page and on Twitter.
And wait, there's MORE! The grand prize winner, chosen at the end of the blitz, will #win a football prize pack, including a Cleveland Clash water bottle, a signed copy of Heal My Heart—the book that started it all—and more! Winner will be announced on Elley's Facebook and Twitter at the end of the blitz.
Winners will need to contact Elley with their preferred store for gift card, email address and shipping address, at elley AT elleyarden DOT com.