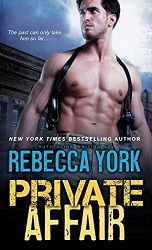 Title:
Private Affair
Series:
Rockfort Security #3
Author:
Rebecca York
Published:
January 6/15 by Sourcebooks Casablanca
Length:
384pgs
Format:
ecopy
Genre:
romantic suspense
Shelf:
review
Rating: ★★★★
Back Cover Blurb:
Model Olivia Winters comes home to escape her job in New York City, and finds herself compelled to investigate the suspicious suicide of a former high school classmate. She enlists the help of private investigator Max Lyon, an ex-detective from a troubled family. Posing as husband and wife, the pair uncovers a grisly trail of murder, and the danger propels them into each other's arms.
With a murderer on the loose, Max and Olivia realize they're in too deep, too late. They're getting close to the truth—and to each other's secrets.
My Review:
York's shockingly vivid scenes make this story easy to picture. She definitely kept me on my toes as the story unravelled. The subject matter was very hard hitting at times, bringing up a great deal of unsavoury topics, but York does so in a way that engages her readers, bringing it forward in a very straightforward, in your face manner that relates directly to the story at hand. Combined with suspense, action, and a very healthy dose of romance, she kept me hooked throughout.
I enjoyed getting to know the main characters in this story. They were very well developed, approachable individuals who made me laugh while capturing my heart. The fact that they both overcame their pasts in a big way was awesome. Their interactions with one another, as well as with the rest of the individuals in the story were quite revealing as well. Personal relationships were a large factor in the story, they highlighted the characters pasts and showed who they are today.
Overall, this was a very enjoyable story. York kept me guessing while capturing my heart. This was an enjoyable romantic suspense that could just as easily be read as a standalone or as part of York's series.