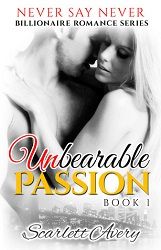 Title:
Never Say Never
Series:
Unbearable Passion #1
Author:
Scarlett Avery
Published:
October 16/14 by Absolutely Naughty Publishing
Length:
78pgs
Format:
ecopy
Genre:
Erotic romance
Shelf:
review
Rating: ★★★★
Back Cover Blurb:
This is the ultimate arrangement for Sofia Herrera. Sometimes in life, you're forced to consider the unthinkable—especially when desperation is the only card you have left to play.
Lose yourself in this sensual, sexy and steamy romantic erotica for women series between Billionaire, Bryce Van Der Linden, and former real estate queen, turned escort, Sofia Herrera in this kinky and tumultuous billionaire romance novel that contains themes of domination and submission.
If you liked
Gone - Part One (The GONE Series Book 1)
by Deborah Bladon,
Filthy Beautiful Lies
by Kendall Ryan or
His Absolute Arrangement: A Scandalous Billionaire Love Story (Jessika, #1)
by Cerys du Lys, you'll LOVE Scarlett Avery's
Unbearable Passion
Coming Of Age Erotica series.
My Review:
What a story! Avery had me hooked with her wildly original storyline and kept me going with her intricate, hot storytelling. Her descriptions were vivid and appealing, allowing you to easily imagine this story and its characters in its entirety. Avery definitely leaves us with a cliff hanger at the ending of this one, but it's a good kind of cliff hanger. She left me wanting more, dying to return with the next story in the series, yet also with a sense of completion.
This entire world is epically out of my league, but I still really liked the characters. They were so approachable and genuinely themselves that you can't help but enjoy them. Sure, there choices aren't necessarily the ones I would have made, but that just made them all the more fantastic.
This was a fantastic start to Avery's Unbearable Passion series. I would recommend it to those who enjoy a lot of explicit heat with an actual story as well.