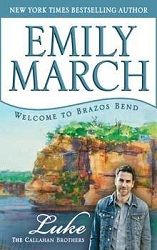 Title:
Luke: The Callahan Brothers
Series:
Brazos Bend #1
Author:
Emily March
Published:
August 21/14 by Emily March Books (1st published 2006)
Length:
321pgs
Format:
ecopy
Genre:
contemporary romance
Shelf:
bought
Rating: ★★★★★
Back Cover Blurb:
They are the Bad Boys of Brazos Bend—Matthew, Mark, Luke, and John Callahan.
New York Times, USA Today,
and
Publishers Weekly
bestselling author Emily March invites readers to travel from Eternity Springs to Brazos Bend, the small hometown of the Callahan brothers snuggled deep in the heart of Texas.
DEA agent Luke Callahan has suffered one loss too many and a fishing trip with his brothers is just what his broken spirit needs to heal. What he doesn't need is a gorgeous stowaway harboring secrets and running from killers. Never mind that he does his best work undercover…
Maddie Kincaid is accustomed to trouble, but she'd hoped to leave it behind when she settled in peaceful Brazos Bend. Who would have guessed that helping a gentle old man would land her in the middle of an attempted murder—her own? Now she's running for her life—straight into the arms of the infamous Luke Callahan.
Lucky for her, he's deadlier than the men chasing her. Unfortunately for him, protecting her means breaking a vow he holds dear. When the nights heat up and the secrets start to spill, Luke faces a brand new danger—losing the woman he loves. What's a mad, bad, and lethal Callahan man gonna do?
My Review:
Were I to describe this novel in one word, that word would be priceless. March has created a comical yet sweet & sassy story that I don't think I'll ever forget. She develops the town of Brazos Bend in such a manner that readers are not only able to picture it, but feel as if they've been invited into the town that is the backdrop for her captivating tale. The combination of romance & sass, old grudges & new beginning, action & suspense is eloquently and memorably done.
March definitely had me in stitches with her characters' antics. At the same time, the emotion and heartache that they put in to all aspects of their lives was breathtaking. It all combined into characters that you can't help but fall for. I appreciated how we get to know a number of individuals from the town, not just the main characters. The welcoming, hometown feel definitely added to this story for me.
I don't know how I've never read this author's work before, but I'll definitely be reading all I can get my hands on in the future.