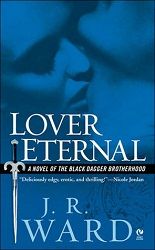 Title:
Lover Eternal
Series:
Black Dagger Brotherhood #2
Author:
J.R. Ward
Published:
March 7/06 by Signet
Length:
441pgs
Format:
ecopy
Genre:
paranormal romance
Shelf:
borrowed
Rating: ★★★★★
Back Cover Blurb:
In the shadows of the night in Caldwell, New York, there's a deadly turf war raging between vampires and their slayers. There exists a secret band of brothers like no other-six vampire warriors, defenders of their race. Possessed by a deadly beast, Rhage is the most dangerous of the Black Dagger Brotherhood.
Within the brotherhood, Rhage is the vampire with the strongest appetites. He's the best fighter, the quickest to act on his impulses, and the most voracious lover-for inside him burns a ferocious curse cast by the Scribe Virgin. Owned by this dark side, Rhage fears the time when his inner dragon is unleashed, making him a danger to everyone around him.
Mary Luce, a survivor of many hardships is unwittingly thrown into the vampire world and reliant on Rhage's protection. With a life-threatening curse of her own, Mary is not looking for love. She lost her faith in miracles years ago. But when Rhage's intense animal attraction turns into something more emotional, he knows that he must make Mary his alone. And while their enemies close in, Mary fights desperately to gain life eternal with the one she loves...
My Review:
Ward had me captivated from the beginning of this novel. The mix of suspense, action, romance, and everyday life was fantastic. I appreciated the interconnectedness of the separate aspects of the story. I enjoyed how the characters are telling us this story, rather than an external, third person narrator. It made me feel as if I were really there rather than just reading about it. Ward's descriptions paint this world in a vivid yet dark fashion, yet you can easily see the light shining through.
Ward tops this story off with a fantastic cast of characters. Butch's descriptions of the Brothers were priceless. You get to know them inside and out, in a very personal, bromance sort of way. I love the slang in the dialogue. Ward easily shows how the characters have adapted to the modern day, yet at the same time the odd slip into a past reminds readers just how old these vampires are. Ward has also come up with some great vampire names. They embody the characters'' personalities while also being really cool names.
The mix of vampires and humans, the old world and the new, was superb. I laughed & I cried, all the while caught up in the forward momentum of these characters' lives. It was a fantastic novel that not only added to the series, but was a fantastic novel in and of itself.