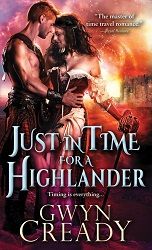 Ten Amazing Facts by Gwyn Cready
Ten amazing facts about me and/or Just in Time for a Highlander (I don't generally associate the word "amazing" with anything having to do with me or my writing, so this is probably going to be a bit of a challenge):
1. The first romance novel I wrote took six years to finish. I was working full-time as a brand manager for GlaxoSmithKline and raising two kids while I was writing it. (Cue my husband: "I'm the one who raised the kids.") I wrote for an hour in bed each night and all day on Sunday. I wrote scenes at random, which, in my present opinion, is exactly the wrong way to write a book, rather than writing from the beginning to the end. I didn't tell my husband I was trying to write a book for at least two or three months after I began. The manuscript, when complete, was good enough to score me a great agent. However, it wasn't good enough to sell, so my agent encouraged me to write a second book. I reminded her the first book took six years. She said, "Second books are always faster." She was right. The second book,
Tumbling Through Time
, took "only" twenty months to write. She sold that one and eight more after that.
2. I became a writer to honor my younger sister, Claire, a photographer and a poet, who died without warning at 31.
Tumbling Through Time
came out ten and a half years after I began to write. It's dedicated to Claire, and I know she's perennially amused that her corporate executive older sister became a writer for her.
3. My second book,
Seducing for Mr. Darcy
, won the 2009 RITA Award for Best Paranormal Romance. When RWA called to tell me I was nominated, I asked when the ceremony was, and they said, "July 18." July 18 is Claire's birthday. I knew then just as I know now that she's watching over me.
4. I am an
Outlander
fan, through and through. I'd never read a romance novel until I read
Outlander
, and
Outlander
is the reason I decided to write a romance when I decided to write. In one of my last conversations with my sister, I encouraged her to read
Outlander
. The heroine of
Outlander
, of course, is Claire, and my sister dated a Jamie all through college.
5. Duncan, the dashing time-traveling Scot who's the hero of
Just in Time for a Highlander
, began his existence as a minor, minor character in my contemporary romance,
A Novel Seduction
, which also happened to be my first kilted Scotsman cover. It's pretty easy to fall in love with a kilted Scotsman cover.
6. Speaking of kilted Scotsman covers, the model on the cover of
Just in Time for a Highlander
is a very famous model and cover model by the name of Paul Marron. Google him. If you're in a secure place. And have a cool drink nearby. There's a picture of him shirtless in a pair of shorts leaning back on some steps that I have to be sitting down to view. Let's just say he earns his fee.
7. The idea behind this (and the other books in the
Sirens of the Scottish Borderlands
series) is to take powerful men from the present, shove them into the past, and see what they do when the skills that made them powerful (Wall Street know-how, for example, or advertising or the running of a nationally known theater) add up to absolute zero in 1705. Then pair them with women in unusual positions of power for the eighteenth century and see if and how they can reinvent themselves and win the heart of the women they love.
8. If you like dogs, there is a very engaging wolfhound in the book.
9. Abby, the heroine of
Just in Time for a Highlander
, made her first appearance as a minor character in an earlier time travel romance of mine,
Timeless Desire
.
10. Of course,
Back to the Future
, is my Bible when it comes to time travel, but my favorite time travel movie is
13 Going on 30
. <happy sigh> I think it's the combination of 80s music, humor, and heart-melting romance between Jenna and Matt.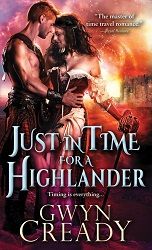 Title:
Just In Time For a Highlander
Series:
Sirens of the Scottish Borderlands #1
Author:
Gwyn Cready
Published:
February 3/15 by Sourcebooks Casablanca
Length:
320pgs
Format:
ecopy
Genre:
historical/time travel romance
Shelf:
review
Rating: ★★★★
Back Cover Blurb:
For Duncan MacHarg, things just got real…
Battle reenactor and financier Duncan MacHarg thinks he has it made—until he lands in the middle of a real Clan Kerr battle and comes face to face with their beautiful, spirited leader. Out of time and out of place, Duncan must use every skill he can muster to earn his position among the clansmen and in the heart of the devastatingly intriguing woman to whom he must pledge his oath.
Abby needs a hero and she needs him now
When Abigail Ailich Kerr sees a handsome, mysterious stranger materialize in the midst of her clan's skirmish with the English, she's stunned to discover he's the strong arm she's been praying for. Instead of a tested fighter, the fierce young chieftess has been given a man with no measurable battle skills and a damnably distracting smile. And the only way to get rid of him is to turn him into a Scots warrior herself—one demanding and intimate lesson at a time.
Gwyn Cready is a writer of contemporary, Scottish, and time travel romance. She's been called "the master of time travel romance" and is the winner of the RITA Award, the most prestigious award given in romance writing. She has been profiled in Real Simple and USA Today, among others. Before becoming a novelist, she spent 25 years in brand management. She has two grown children and lives with her husband on a hill overlooking the magical kingdom of Pittsburgh.
My Review:
I don't remember the last time that I laughed so hard and so often while reading a novel. Cready has definitely written a fun and eventful novel. She develops this world in such a way that readers can easily picture the events in question. She also tells a very intricate story that takes into account the time period in question, while writing with creative liberty that makes the story so original.
I loved these characters. They were such a ridiculously fun bunch to get to know. The larger than life personalities combined with the clash of times in a wonderful whirlwind of miscommunication and assumptions. I thoroughly enjoyed the numerous strong, opinionated characters that we came to know throughout. This was all topped off with a formidable couple who took centre stage. Their similar outlooks on life but very different backgrounds melded together into something fantastic. Heck, I even enjoyed the love triangle Cready developed, something which I generally find tedious. Cready presents it in such a manner that it really adds to the plot of the story.
This novel encompasses a bit of everything. The time travel was very believable, the story entertaining, and the romance sizzled. It is definitely a great introduction to Cready's new series.
Goodreads
~
Shelfari
~
Sourcebooks
~
Amazon
~
Apple
~
B&N
~
BAM
~
Chapters
~
Indiebound
~
Kobo
And before you go....
Be sure to enter this tour wide giveaway!