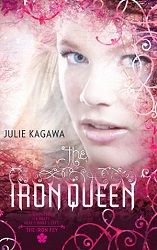 Title:
The Iron Queen
Series:
Iron Fey #3
Author:
Julie Kagawa
Published:
January 25/11 by Harlequin Teen
Length:
384pgs
Format:
ecopy
Genre:
YA Fantasy
Shelf:
bought
Rating: ★★★★
Back Cover Blurb:
My name is Meghan Chase.
I thought it was over. That my time with the fey, the impossible choices I had to make, the sacrifices of those I loved, was behind me. But a storm is approaching, an army of Iron fey that will drag me back, kicking and screaming. Drag me away from the banished prince who's sworn to stand by my side. Drag me into the core of conflict so powerful, I'm not sure anyone can survive it.
This time, there will be no turning back.
My Review:
Kagawa returns to the world of the Nevernever with the same approachable, larger than life writing style we've come to know and love her for. I enjoyed how Kagawa simultaneously recaps key points up to this point in the series while forwarding the current storyline. The irony in this story is riveting. I liked how the book is divided into parts based on what's going on at the time. Each part is like a story on its own and they all tie together into something fantastic.
The first person narrative makes you feel like you're really there, experiencing this all alongside the characters. It also lets readers get up close and personal with Meghan. I felt really close to her by the end of the story. I also found that I understood Ash & Puck much better after this journey with them. I love Grimm's mysterious yet straightforward manner. Every time he says something it's vital to the characters, yet he's also so aloof.
This series just keeps getting better. This novel is definitely more intense and magical than the last, leaving my dying to continue this series that I'd recommend to YA fantasy lovers of all ages.