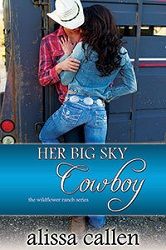 Title:
Her Big Sky Cowboy
Series:
The Wildflower Ranch #3
Author:
Alissa Callen
Published:
January 13/15 by Tule Publishing
Length:
127pgs
Format:
ecopy
Genre:
contemporary western romance
Shelf:
Netgalley
Rating: ★★★★★
Back Cover Blurb:
Sometimes Mr. Wrong is Mr. Right.
Speech therapist, Trinity Redfern, knows her perfect match is out there somewhere. When she finds him he'll be articulate, well-dressed and most of all he will let her call the shots.
Reclusive rancher, Zane Nash, has heeded life's lessons. Never trust anyone, especially a woman. But when he becomes an instant father to five-year-old Finn, he must trust the sassy speech therapist who takes over his ranch for the summer. Trinity is Finn's last hope to learn to speak again.
But when the summer ends has time run out not only for Finn but also for Zane? Can the reserved cowboy find the words to make strong-willed Trinity stay … forever.
My Review:
Callen has taken Marietta by storm with this one! Her picturesque descriptions bring this ranch and homestead to life in a breathtaking way, inviting readers to join her characters in Montana. This novel is emotionally poignant. It is a complex tale of life's downfalls and disappointments combined with the sweetest romance that I've ever read. Callen combines all of this into an absolutely unforgettable novel that captures your heart and engages every romantic bone in your body.
If the story itself wasn't enough, the individuals that we meet are fantastic. These characters with intricately crafted pasts were a joy to meet. The main characters fit so well together that everything seems so natural, including their preconceived notions. These well-developed individuals not only complemented one another in the story, but also completed the picture. I also loved the fact that the young son was a major character in the story, rather than an obstacle to overcome.
This was a fantastic novel that I would recommend to any and all lovers of romance. It is a sweet, sassy story that can easily be read as a standalone, as part of this series, or as an unforgettable piece of Marietta as a whole.