First off, I'd like to thank Jonel Boyko for sponsoring the giveaway for Everywhere the Road ends, Book II of the Traveler of Ord Saga, and for being so gracious as to allow me some space on her blog to share thoughts. I can only hope others take away from this time what I'd hoped to put into it.
I have to admit that coming up with a topic for this post took me some thought. What does one write about in a guest post? Anything really, but with the space and time available, I thought I'd like to offer some advice for potential authors who are struggling with a manuscript, or those who have a manuscript and are mulling over the self-publishing route.
First, to the journeyman writer:
The first and foremost piece of advice I can give is on what you should write. It may sound contrived, and it may be something you've heard before, but really – write what you want to write. I simply cannot stress this point enough. Some people approach writing as a business. To some extent they're correct – books sell, and authors who sell books can expect to enjoy popularity, notoriety, and that curious, oft-heard euphemism called 'validation'. Writing may be a business, but before that, it is an art, not unlike painting or sculpture. Your canvas is parchment, your tool is the quill; with them, the picture you paint only differs from visual art in that your image is painted in the viewer's mind.
But think for a moment about that image. Some artists paint on commission, yes, but there's something of a difference in complexity between a still life on canvas and an eighty thousand word novel. Neither is a less valid pursuit than the other, but writing a novel is a heck of a thing – even if you haven't published or even edited your manuscript, you should be proud of yourself for even finishing it at all. Truly devoting yourself to your story can result in years of diligent work to reach the goal of a single completed piece, especially if you've got a life, a day job, and find yourself burning the midnight oil and battling against mental fatigue just to bust out five hundred solid words this week. It sounds like a rough road, but it doesn't need to be. Ask yourself – is it a labor of love, or just a labor? If you're writing for you, and cultivating the story you want to tell, chances are you're still going to be there at the end of the journey, no matter how long it takes to get there. If you're writing what you think other people want to read in the hopes of just trying to make money, you're not going to be truly devoted to your work. Eventually that's going to lead to burn-out, and worse, readers noticing you're just not giving it your all.
Second is the question of writing at all. One of the toughest things about painting a literary picture is the reality of having to get up to do something else, walking away for a while, and then digging back in later, when your ideas aren't as fresh in your head. The result is some of your precious writing time going to reviewing what you already wrote, to get yourself back on track. With every day that goes by, it's easy to think that you just can't get back into it with only X amount of time to work. So, you pass on opportunities to write, and eventually feel that you're so far away from it that you can never put your train of thought back on the track again.
I can say this – don't let such things deter you from writing at all. ANY progress is progress, and if you see it that way, suddenly loving your work again isn't so hard. One considerable benefit about working on an unpublished, unagented manuscruipt is that it is truly yours. You have no deadlines, and no pressure to perform. Just write. Sit down, write what feels right, and to save confusion and spare yourself a lack of motivation, do not go back to edit anything until the work is done. Don't think you can find any time to write? Here's a trick I often use. Do you like tea? Coffee perhaps? Try this – fill that cup, and instead of checking your Twitter feed, your email, or reading the paper, write until that cup is empty. It may only be fifteen minutes, but it's something, and that feeling of a little progress every day is going to stay with you. If you don't have enough free time in your life to just sit down and enjoy a drink for a few minutes…well, I offer you my condolences.
Now, to the waffler:
I'm not going to get into the debate of self-publishing over the traditional route here, as that's a long conversation in its own right. What I will say is – don't be afraid to be your own house. Agents and traditional houses reject queries every day simply because they have so much on their plate. It doesn't mean your work is bad – it means that you're not the only fish in the sea, and that's an inevitability we all have to deal with. Do you plan to write a lot of books, or is this going to be the only project you ever work on? If you answer with the former, consider self-publishing your first book. It will provide you with invaluable experience regarding the publishing process, and it will introduce you to the world as an 'author', with a defined body of work. That opens a lot of doors for social networking and building yourself up in the world, plus it gives others the chance to see what you're all about. If you do want to go the traditional route with a future manuscript, you'll also get yourself a nice cap-feather for your next inquiry. I have two self-published novels right now, and I can say from my own experience that publishing houses and agents are giving me that precious time of day on my unpublished work that they weren't willing to give me before.
At any rate, thanks for reading, good journey on painting your own picture of the mind, and say hello if you'd like a companion for the ride!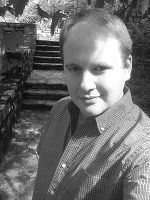 About the author:
Scott McCloskey has searched from the eastern United States all the way to Osaka, Japan, but has uncovered no Elvish rings of power, nor magic swords to hold aloft. Blame books for teaching him never to give up. In the meantime, he pens the almost plausible adventures of siblings Theodore and Marie Ellsworth in The Gossamer City, as they are dictated to him by the diminutive gnomes with hummingbird wings that flit unceasingly about his bedroom at all hours.
Scott's typewriter is subject to occasional fits of lycanthropy, and has been known to go bump in the night – Eden in Spring, a macabre tale of an impermanent afterlife (to be released in March as part of Paying the Ferryman, a horror anthology published by Charon Coin Press), is the result of one such haunting.
Scott lives with a loving wife who puts up with his idiosyncratic bent, two adorable little girls to whom he sings scratchy jazz tunes at night, several Russian Wolfhounds, and a friendly Samoyed who sits by his side as he wiles away the midnight hours at his keyboard. His second book,
Everywhere the Road Ends
(Book II of the coming-of-age adventure series The Traveler of Ord) is available in paperback and digital formats via
amazon.com
.
Examine Scott's ramblings at
ordonline.net
.
And before you go....
Enter to win 1 of these 2 great prizes.
1st prize: an ecopy of The Goldenwealth Light & Everywhere the Road Ends by Scott McCloskey (mobi & epub available)
2nd prize: winners choice of an ecopy of The Goldenwealth Light or Everywhere the Road Ends by Scott McCloskey (mobi & epub available)
Contest is open internationally, where applicable by law.
Entries close at 11:59pm Jan 29/15.
Winners will be drawn Jan 30/15.
Winners will have 72h to claim their prize or another winner will be drawn.