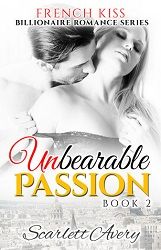 Title:
French Kiss
Series:
Unbearable Passion #2
Author:
Scarlett Avery
Published:
November 14/14 by Absolutely Naughty Publishing
Length:
69pgs
Format:
ebook
Genre:
erotic romance
Shelf:
review
Rating: ★★★★
Back Cover Blurb:
Sofia Herrera's naughty arrangement becomes a little more complicated—especially when Bryce Van Der Linden does his best to fully dominate her. She can't deny the obvious—her body, mind and soul yearns for the debonair billionaire.
If you liked Gone - Part One (The GONE Series Book 1) by Deborah Bladon, Filthy Beautiful Lies by Kendall Ryan or His Absolute Arrangement: A Scandalous Billionaire Love Story (Jessika, #1) by Cerys du Lys, you'll LOVE Scarlett Avery's Unbearable Passion Coming Of Age Erotica series.
My Review:
Avery picks up her story where we left off in the previous segment and takes off running. I enjoyed returning to this story to find the same upbeat writing style that had me hooked before. Avery's vividly realistic descriptions bring the story to life in a drastically unforgettable manner. She had my pulse racing and my imagination humming with this well written tale. I really enjoyed how Avery left us in a place of transition at the end of this one. The main character is facing some major decisions at the end of the story that could potentially affect the rest of her life. Not only does this have me dying to read the next segment of the story, but it also gives a sense of completion to this one.
The very inviting 1st person narrative gets you in close with the main character. I really felt like I had a sense for who she is and what she wants at the end of this part. The female lead is the type of person that you can identify with more and more throughout. I also enjoyed her billionaire counterpart. He's becoming a much more complex character throughout, adding a great deal to the story. The chemistry between these two is off the charts, seeping from the pages of the story.
This is a fast paced, exciting story alongside an erotically charged, multifaceted relationship. They meld together into a very fetching whole.