1. How have your years working in the film and TV industry helped to shape your writing?
I think they've helped because I'm used to working in an unconventional environment and largely for myself. Even though working on a film is with a lot more people, you're still freelance. It's also helped because I'm used to breaking down scripts into their various components, which comes in very handy for knowing how important the continuity of a story is.
I'm also used to working under pressure which helps coming up to deadlines!
2. What inspired you to make to the move to being a romance writer?
I'd wanted to get out of being an Assistant Director for a while, and at first I wanted to write a screenplay but then I thought about it and realized that perhaps writing fiction might be more practical in the long run. (The percentage of scripts that actually make it to the screen is tiny!). I had lived with a friend who had first talked about submitting a manuscript to Mills and Boon and that's where the germ of the idea started, so it's all thanks to her.
3. If you could make any literary hunk in history come to life, who would it be and why?
At the moment, it would have to be Jamie Fraser from Diana Gabaldon's Outlander books because he's just the most perfect hero. He starts out as this incredibly sweet and honourable guy, virginal to boot, yet very instinctively Alpha. He grows into this very complex and charismatic man who has the most amazing love of a lifetime with the heroine, Claire. He develops through the books into an incredibly rich and complex character. Brilliant, and very sexy.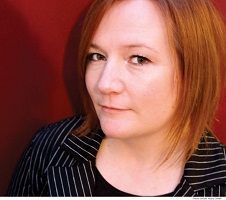 About the author:
Abby Green spent her teens reading Mills & Boon romances. She then spent many years working in the film and TV industry as an assistant director. One day while standing outside an actor's trailer in the rain, she thought: there has to be more than this. So she sent off a partial to Harlequin Mills & Boon. After many rewrites, they accepted her first book and an author was born. She lives in Dublin, Ireland and you can find out more here: www.abby-green.com
Title:
Fonseca's Fury
Series:
Billionaire Brothers #1
Author:
Abby Green
Published:
December 16/14 by Harlequin
Length:
192pgs
Format:
paperback
Genre:
contemporary romance
Shelf:
review
Rating: ★★★★★
Back Cover Blurb:
The last time Luca Fonseca saw Serena DePiero, he ended up in a jail cell. The Brazilian billionaire has since clawed back his reputation, but he's never forgotten her. So when Luca discovers Serena's working for his charity, his anger reignites.
Serena has changed. Finally in control of her life, she refuses to let Luca intimidate her. She'll deal with whatever her new boss throws at her—from a rain-forest trek to the social jungle of Rio. But she can't handle the passion that flares hotter than Luca's fury—especially when it threatens to consume them both.
My Review:
This novel was eloquently and captivatingly written. Green's polished and inviting style combines with this incredible story of substance in an unforgettable manner. I found the plot engaging. Green combines the romance of a new couple with real world issues and controversial families.
Green has developed characters that had me hooked from the first chapter. An intense, tumultuous chemistry flows through the entire story. The attraction and wariness the characters feel for one another is palpable. It's absolutely addictive. I really appreciated the fact that although the main characters came from money, they were about so much more than that. These were individuals of substance, who really cared about the world around them. This combined with their explosive relationship to create the perfect couple for the story at hand.
I couldn't put this one down even for a second, even though I really should have been sleeping. This is definitely a 'just one more chapter' type of novel.