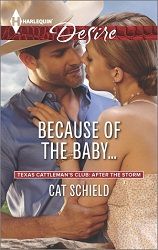 Title:
Because of the Baby
Series:
Texas Cattleman's Club: After the Storm #4
Author:
Cat Schield
Published:
January 1/14 by Harlequin Desire
Length:
192pgs
Format:
ecopy
Genre:
contemporary romance
Shelf:
review
Rating: ★★★★★
Back Cover Blurb:
When proximity for the sake of the baby leads to passion…
Born prematurely during a devastating tornado, baby Grace is the littlest miracle in Royal, Texas. Now, with Grace's mother in a coma and her father missing, rancher Keaton Holt and nurse Lark Taylor must come together to care for their niece, putting aside a century-old family feud for the child's sake.
For these two, the road to forgiveness is paved with passion. Even as the family feud continues around them, Lark and Keaton forge a feverish bond. But what the tornado brought together it can tear apart as new revelations surface in the aftermath of the storm…
My Review:
This novel was off and running from the beginning. Schield captured my attention with the rawness of her characters' emotions and held me throughout with her wit with words and flair with vividly believable descriptions. Schield wove a fantastic story that combines happiness with loss in an unforgettable way. The entire situation broke my heart, but the families (or parts thereof) coming together was breathtaking. This is a novel that can easily be read over a weekend, in a day, or in a single sitting.
I fell in love with the main characters in this novel almost as soon as I met them. Caught up in circumstances beyond their control they try to do best by those that they love while remaining true to themselves. These likeable individuals easily carry the story forward with their personalities and convictions. I really appreciated the way that Schield built up the past between these individuals. The family histories put the entire story in perspective. It was amazing to see how some things can carry forward, and the allusion that not all may have been as accidental as it seemed definitely had me speculating.
Schield captured me heart and soul with this story. I was left with one question at the end, however. Where in the world is Jake? I guess I'll have to continue the series to find out.