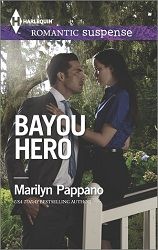 Title:
Bayou Hero
Author:
Marilyn Pappano
Published:
January 6/15 by Harlequin
Length:
288pgs
Format:
ecopy
Genre:
romantic suspense
Shelf:
Netgalley
Rating: ★★★★
Back Cover Blurb:
In this book from USA TODAY bestselling author Marilyn Pappano, one family's scandal is responsible for a rising body count…
Even for an experienced NCIS agent like Alia Kingsley, the murder scene is particularly gruesome. Someone killed in a fit of rage. Being the long-estranged son of the deceased, Landry Jackson quickly becomes a person of interest. But does Landry loathe his father as much as the feds suspect?
It's clear to Alia that Landry Jackson has secrets, but his hatred for his father isn't one of them. Alia feels sure Landry isn't the killer, but once more family members start dying, she's forced to question herself. What if the fierce attraction between her and Landry has compromised Alia's instincts?
My Review:
Pappano had me hooked with the suspense and intrigue of this novel. The intricate construction of the plot took into account the past, the present, and the future of the characters involved. She had me guessing right until the very end. Combine this with vivid descriptions and intimate moments and you have a story that you won't soon be able to forget.
The pasts of these characters really drove this story forward. Secrets and betrayal lay at the root of who these characters are. I found the contrast between the different forms of betrayal to be quite poignant. No one is unscathed, yet each deals with it in a different manner. This goes for the main characters and the supporting cast alike. That said, the main characters really stood out for me. Not only did Pappano do a fantastic job on their development, but I genuinely liked them as individuals. Despite what they had and were going through they were good people that I instinctively wanted to know more about.
As a whole, this was a well built, intricate novel that kept my attention throughout. I definitely enjoyed reading it and wouldn't hesitate to recommend it to others. I will also be looking further into this author's work in the future.