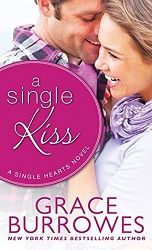 Title:
A Single Kiss
Series:
Sweetest Kisses #1
Author:
Grace Burrowes
Published:
January 6/15 by Sourcebooks Casablanca
Length:
384pgs
Format:
ecopy
Genre:
contemporary romance
Shelf:
review
Rating: ★★★★★
Back Cover Blurb:
A single kiss can change everything...
In the first novel of the Sweetest Kisses series, Hannah Stark has set her sights on corporate law to assure her a career of paperwork, predictability, and conservative suits. Contracts, finance, and the art of the deal sing to her, while the mess and misery of the courtroom do not. But her daughter needs to eat, so when Hannah is offered a temporary position in a small town firm's domestic relations department, she reluctantly accepts.
Trent Knightley is mightily drawn to his newest associate, though Hannah is as protective of her privacy as she is competent. When their friendship and attraction heat up, Hannah's secrets put her heart and Trent's hopes in double jeopardy.
My Review:
What a story! Burrowes' fluid, inviting writing draws you into this remarkably inviting world in a way like no other. She melds romance with business, family with standing on your own. This novel forces you to take a hard look at certain aspects of life while at the same time entertaining you with a very intriguing story. I love the in-depth look that this author takes at the darker side of family law. This is a novel about so much more than a couple coming together. Burrowes forces readers to look at life, love, and family in a very different way.
The emotional rollercoaster that the main characters were on was fantastically shocking. Their lives mirrored one another in a very intriguing and inviting manner. It was a treat to see them coming together this way. I really enjoyed the melding of various aspects of law with who the characters are and where they came from. Not only that, but the characters were well developed, approachable, fun people that I really wanted to know.
This is an emotional, unforgettable start to Burrowes' new series. I can't wait to see what comes next.