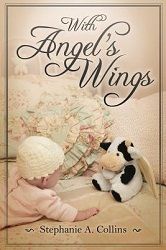 Title:
With Angels Wings
Author:
Stephanie A. Collins
Published:
September 17/13 by A Flair for Writing Publishing Services
Length:
302pgs
Format:
ecopy
Genre:
memoir
Shelf:
review
Rating: ★★★
Back Cover Blurb:
With Angels Wings is the true story of Laura, a young wife and mother of a three-year-old daughter. Her husband, Kevin, a marine, is deployed overseas, leaving Laura to give birth to their second daughter and handle the two young children on her own.
Thirteen days after the birth of her youngest, the pediatrician detects a heart murmur. That leads to just the first of multiple diagnoses for both of her daughters, sending Laura on an unexpected and emotional journey into the world of parenting medically-fragile, special needs children.
Right when Laura fears she will break under the incredible pressure, she encounters the beauty of true love, in a most unexpected and unconventional way.
My Review:
This was definitely an emotional novel that is rather cathartic at times. That said, I also found it to be a bit of a heavy read. There were times when I simply had to put the story down and give myself a bit of a break. Challenges at home combine with those in the outside world for a sense of oppressing odds, but with a sense of hope at the end of the tunnel. The honest and straightforward writing style of the novel adds to that feeling.
As a whole, this was a very emotionally draining novel. It was enjoyable, and I would most definitely recommend it to others, but only if you're in the mood for it.