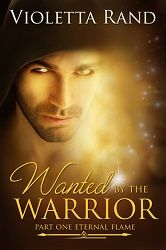 Title:
Wanted by the Warrior
Series:
Eternal Flame part 1
Author:
Violetta Rand
Published:
November 15/14
Length:
60pgs
Format:
ecopy
Genre:
historical fantasy romance
Shelf:
review
Rating: ★★★★★
Back Cover Blurb:
A Viking fantasy-romance novella...
In a land where vendettas and magic separate the north and south, forbidden love is brewing between two ancient rivals…
Lady Sophia Camerot desperately tries to behave, but simply can't follow the rules. After a stranger saves her life, she suspects her champion is from another place. And to make matters worse, despite the political ramifications of her refusal to marry the man her father handpicked, she prays for another chance meeting with her hero.
Prince Victor Allain is the notorious heir to the Solfine throne, the last line of defense against an envious world that wants nothing more than to purge Europe of pagans.
Unable to resist his attraction for Sophia, he risks everything to possess her.
Hunted by enemies for breaking the law, Victor and Sophia must outmaneuver their rivals to protect Victor's country from destructive alliances.
My Review:
What a fabulous story. Rand takes her audience on a quick & rather intricate ride like no other. Her brilliant storytelling combines with her natural flare for the dramatic into something that I simply couldn't put down. The combination of history and mythology was breathtaking. Norse mythology is at the forefront of this tale, and Rand gives it that little twist to make it her own without it becoming unrecognizable. Considering the short length of this work, it was remarkably in depth. I loved how well we got to know the two main characters, while at the same time leaving some mystery behind them as well. The chemistry between the two is palpable throughout and their devotion tugs at your heart.
I love the story that Rand tells in this memorable historical setting. Her characters captured my heart and still haven't let go. This is a series that I'll most definitely be following with eager anticipation.