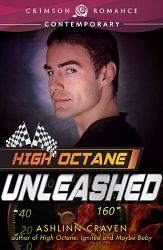 Title:
High Octane: Unleashed
Series:
High Octane #3
Author:
Ashlinn Craven
Published:
November 17/14 by Crimson Romance
Length:
238pgs
Format:
ecopy
Genre:
contemporary romance
Shelf:
review
Rating: ★★★★★
Back Cover Blurb:
Viv McCloud is back on the Formula One tour with a new career, a new philosophy, and a new haircut. As the former highly visible girlfriend of two rival drivers, she's now a TV journalist determined to kick some ass in this male-dominated world. Her first assignment is to draw out the secrets behind reclusive Belgian driver Adam Fontaine.
Engineer-turned-driver Adam has always been partial to order and control in his life. The fans call him Mr. Spock and he understands engines much better than he does women. A troubled past has left him untrusting and suspicious, and he's in no mood to hand over his life story to Viv or anyone—especially not on live TV.
Viv's job is on the line even as she falls in love with her subject. Can she scratch beyond the Vulcan-like exterior to reveal the red-blooded man underneath? And if she does, will his secrets ruin their chances of finding a happily ever after?
Don't miss the fast-paced conclusion to this popular F1 series.
My Review:
This was an absolutely unforgettable novel. I could feel the excitement of the races throughout. I really appreciate how Craven took the time to make racing real for her readers. It's not just a backdrop to the novel, but an integral part of the story. I also loved the ending of this novel. Craven leaves us will a sense of completion & new beginning. She gives us just enough of a hint as to where this is going next that you're left trying to guess what this new character will be like.
I really appreciated the characters in this novel. Not just as characters, but as individuals. The cultural diversity of the F1 circuit & its locales really shines through. I appreciated how Craven not only worked these differences into the story, but also the way that she showed how so many of us can be quite culturally insensitive.
This is definitely a fast paced read that flies by. I'd highly recommend it to romance and race car lovers alike.