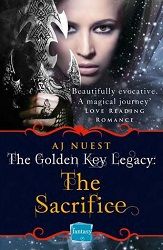 Title:
The Sacrifice
Series:
The Golden Key Legacy #2
Author:
AJ Nuest
Published:
December 18/14 by HarperImpulseUK
Length: 106pgs
Format: ecopy
Genre: fantasy romance
Shelf: review
Rating: ★★★★★

Back Cover Blurb:

The second Faedrah Austiere walked into his life off the canvas, everything in Rhys McEleod's world stopped making sense. Not only does her story sound like a Grimm's fairy tale, evidently he's been cast as the villain. If that isn't enough, the mirror inside that old, beat up armoire at her uncle's condo is supposedly a doorway to another world. Ever since the pathway opened, something inside him has seemed…off. If what his muse says is true, they are headed for an epic showdown, but he isn't about to let her go. Nothing is more important than Faedrah's protection, even if her parents refuse to accept him.

Though certain their fates are bound by more than the golden key Princess Faedrah wears around her neck, it is paramount Rhys' true identity be kept secret. Should news of his bloodline ever reach her kingdom, their entire quest to save her people could be lost. Their only hope to prove his loyalty is to steal the map to the dark lord's Crystal Crypt. Yet her a plan endangers her beloved more than the accusations he faces in her kingdom and, to escape evil's grasp, she and Rhys must take a leap of faith beyond her wildest imagination.


My Review:
Nuest does it again! She's written an absolutely unforgettable story that you won't be able to put down. This one pick up right where the last left of, with emotions flying high and loyalties set. The intensely action packed plot with a fast forward pace kept me hooked throughout. The vivid, colourful descriptions paint this world right before your eyes.
By switching perspectives between the main characters Nuest gives you a well-rounded sense of the story & it's implications to everyone involved. Nuest's entire way of writing changes when she switches to suit the character at hand, while still maintaining the same vibrant, larger than life feel to the story. The differing speech patterns in the dialogue really differentiates the character origins as well.
The story ends with the mother of all cliffhangers, leaving you dying for more. I can't even guess how this is all going to turn around in the next instalment (which I'm dying to read). It is a fantastic addition to a must read series that definitely leaves you wanting so much more.