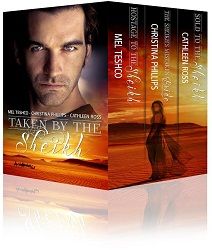 Title:
Taken by the Sheikh
Series:
Taken by The Sheikh Trilogy
Author:
Mel Teshco, Christina Phillips, & Cathleen Ross
Published:
December 25/14
Length:
220pgs
Format:
ecopy
Genre:
contemporary romance
Shelf:
review
Rating: ★★★★★
Back Cover Blurb:
Three desert Sheikhs. Three captive brides…
Bound by duty to honor their father's dying wish, three royal brothers must marry their destined brides… by whatever means necessary…
Book 1: Hostage to the Sheikh
~
Mel Teshco
Sheikh Shahzad Salah al Din doesn't have time for hearts and flowers, not when his parents' bodies are barely even cold in their graves and his country, Omana, is on the brink of revolt. He has to secure peace by honoring a long ago arrangement to make English rose, Lexi Galvin, his wife. The trouble is strong-willed Lexi isn't aware of her royal Arab lineage let alone her destiny. There is only one way Shahzad can guarantee she will be his queen … and he isn't above using force to get it.
Read Chapter One of
Hostage to the Sheikh
Book 2: The Sheikh's Mistaken Bride
~
Christina Phillips
In order to secure a powerful alliance for his country, Khalid has no choice but to marry a neighboring princess. It's not what he wants, but duty must come before pleasure. Yet when he meets the beautiful Sanura he changes his mind… only to discover the virgin in his bed is not his destined bride.
Read Chapter One of
The Sheikh's Mistaken Bride
Book 3: Sold to the Sheikh
~
Cathleen Ross
He'd paid a fortune for his bride and he was determined to collect, whether she liked it or not. Rafi Salah al Din doesn't trust easily. In charge of security for his country Omana, he devotes his life to duty. With his parents murdered it is his duty to stabilize his country by finding his parents' assassin, marry and produce a son to ensure the Salah al Din line lives on. So why does the wife he bought disagree?
Read Chapter One of
Sold to the Sheikh
About the authors:
Christina, Cathleen and Mel have been good friends for years, so when Cathleen came up with the idea of us writing a box set together both authors jumped at the chance to create an exciting, interweaving story about three sheikhs finding love.
Cathleen's Bio:
Cathleen loves writing for Harlequin and Escape publishing. Her latest release: Secret Housewives of Sydney: Nella has been described as the most shocking of the housewives. Of that she is very proud and glad she writes under an assumed name. When she's not writing for her publisher she's self publishing. Her latest self-published project is Highlander Romance. For a free Highlander story
click here
.
Mel's Bio:
Mel Teshco's gypsy-like upbringing saw her living in many places along Australia's east coast. Each new home stimulated an already over-active imagination, where she spent as much time dreaming about fantasy worlds as the real world - the fantasy sometimes being much better.
She is a multi-published author with a love for the written word along with a short attention span that sees her juggling a variety of genres and heat levels in her stories. From contemporary to paranormal, inspirational to erotic, she hopes there's a little of something for every reader out there to enjoy.
Christina's Bio:
Christina Phillips is an ex-pat Brit who now lives in sunny Western Australia with her high school sweetheart and their family. She enjoys writing paranormal, historical and contemporary romance where the stories sizzle and the heroine brings her hero to his knees.
Christina is addicted to good coffee, expensive chocolate and bad boy heroes. She is also owned by three gorgeous cats who are convinced the universe revolves around their needs. They are not wrong.
Friend us on Facebook and follow us on Twitter
My Review:
I fell in love with this anthology on the first page, and didn`t put it down until I finished all three stories. Teshco had me completely hooked. I was on the edge of my seat through her entire, well written, captivating tale. Phillips` story was comically priceless and romantically satisfying. She also broke my heart and then mended it with an emotional rollercoaster. Ross wraps up this triad with the perfect ending. She wraps up the loose ends in a romantic, yet exasperating, tale. The stories, written by these three separate authors, mesh together fantastically into an unforgettable whole.
The separate stories in this novel being about three brothers makes them that much better. Readers really get a sense of who the characters are and where they come from. Also, the three different writing styles suit their respective stories perfectly, highlighting the couples within.
This is definitely a must read for all lovers of romance. It can easily be read as three fantastic novellas, or together as an absolutely unforgettable novel.
Capture Taken by the Sheikh at the special low introductory price of $0.99 for six weeks only!
And be sure to enter this giveaway before you go!