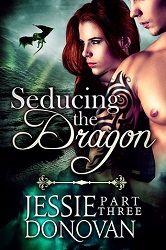 Title:
Seducing the Dragon part 3
Series:
Stonefire Dragons #7
Author:
Jessie Donovan
Published:
December 15/14
Length:
67pgs
Format:
ecopy
Genre:
paranormal romance
Shelf:
review
Rating: ★★★★★
Back Cover Blurb:
While Evie attempts to behave in the manner of a clan leader's mate during the special dinner in Finn's honor, news of another attack ruins the evening. Now Bram and Evie must work together to not only stop the dragon hunters from hurting anyone else, but to also control Bram's dragon. Without his leadership, the clan will be doomed.
My Review:
I have loved the serials in this series up until now, but this instalment blows them all out of the water. Donovan combines larger than life descriptions with an unforgettable storyline to create something that you won't be able to put down. The world that Donovan has been creating for us is really come together in this one. The different elements of the story and of this fantastically magical world are really starting to combine into an intricate whole. This action packed instalment kept me on the edge of my seat.
I love the contrast between Bram's human and dragon halves. It brings what being a dragon means out into the forefront of the story. His fight with himself and the assorted approaches that we see not only develops him as an individual or dragon-shifters as a group, but it also adds greatly to the plot. I also felt for Evie in this instalment. She's walking such a fine line, especially now that emotions are on the line, as well as lives. I enjoyed how these two have come together as a cohesive couple, working towards the same goal, even if they have a few snafus along the way.
This story may be short, but it definitely packs a punch. It is something that all lovers of paranormal romance need to read. That said, the series does need to be read in order, & if you don't like cliffhangers, I'd suggest waiting for part 4 to be released before starting. I know I can't wait for it after that remarkable ending.