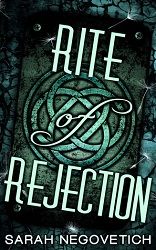 Before we get started with
Rite of Rejection
today, I'm handing the reins over to author Sarah Negovetich for a few minutes.
The meaning behind the Rite of Rejection Cover by Sarah Negovetich
I know that every author in the history of forever talks about loving their cover. So let me join their ranks in singing the praises of this cover. For those interested in that sort of thing, it was designed by the amazing team over at Deranged Doctor Design. They were fantastic to work with and I think the finished product speaks for itself.
When we first started the process I had two goals. I wanted the cover to be easily identified as a YA Dystopian. At the same time, I wanted the cover the stand out within the genre. So, you know, not demanding at all. For me, this meant I wanted a cover that was a bit on the dark side (because so is the story) and I didn't want a girl in a fancy dress. Not that those covers aren't gorgeous. They just didn't reflect this book.
We went through a couple different ideas before I opened the email with this cover. I may or may not have squealed and clapped my hands like a toddler meeting Santa. It's exactly what I didn't know to ask for, if that makes sense. There is a lot of meaning behind the finished product. Here's how it breaks down.
Background and Color
The cracked earth background is really a great representation of the PIT, where most of the book takes place. It's a dark and desolate place filled with dirt and filth. An early reader told me they pictured the whole book in black & white. That's exactly what I was going for. When it comes to color, I initially wanted red since that's the color of rejection in the book. However, the red just didn't look right. So my designer offered up this completely different green color and I love it. Even though Rebecca is rejected by society, she comes to find her own acceptance.
Symbols
So, the biggest symbol on the cover is the Celtic knot smack dab in the middle. This is the design of Rebecca's necklace. In the beginning of the book, Rebecca has a necklace that means a lot to her and she has to give it up. Without being spoilery, it ends up having a lot of meaning to her and playing a role in her growth as a character. The dandelion fluff is probably my favorite part of the cover. The PIT where the characters live is so bleak, but this little weed does grow in the filth of it all. It shows up at various points in the story and, for me, it represents a bright spot in her dismal life.
Font
Before this book, I had never really paid attention to how much a font can impact a book cover. Wow! For this, the font is playing double duty. Rite and Rejection convey the futuristic , science fiction elements of the book. The word Of is meant to be a complete contrast. The swirly font reminds me of the utopian world outside of the PIT where Rebecca pinned all her hopes and dreams.
I love the final result and can't wait to see what my designers come up with for the next book. What do you think?
Sarah Negovetich knows you don't know how to pronounce her name and she's okay with that.
Her first love is Young Adult novels, because at seventeen the world is your oyster. Only oysters are slimy and more than a little salty; it's accurate if not exactly motivational. We should come up with a better cliché.
Sarah divides her time between writing YA books that her husband won't read and working with amazing authors as an agent at Corvisiero Literary Agency. Her life's goal is to be only a mildly embarrassing mom when her kids hit their teens.
You can learn more about Sarah and her books at
www.SarahNegovetich.com
.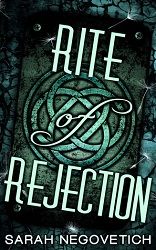 Title: Rite of Rejection
Series: Acceptance #1
Author: Sarah Negovetich
Published: December 4/14
Length: 320pgs
Format: ecopy
Genre: YA dystopian
Shelf: review
Rating: ★★★★
Back Cover Blurb:

"Before you stands the future."

Straight-laced, sixteen-year-old Rebecca can't wait for her Acceptance. A fancy ball, eligible bachelors, and her debut as an official member of society. Instead, the Machine rejects Rebecca. Labeled as a future criminal, she's shipped off to a life sentence in a lawless penal colony.
A life behind barbed-wire fences with the world's most dangerous people terrifies Rebecca. She reluctantly joins a band of misfit teens in a risky escape plan, complete with an accidental fiancé she's almost certain she can learn to love.
But freedom comes with a price. To escape a doomed future and prove her innocence, Rebecca must embrace the criminal within.
My Review:
Negovetich has created a completely new and unique world in which to set her dystopian story. Her descriptions are so realistic that I could not only picture everything, but feel it as well. It was as if I was standing in the middle of her world. The inviting writing style ties this all together, allowing you to immerse yourself in the action of the tale. This well and creatively written novel was a fantastic debut novel for Negovetich.
The characters that we come to know in this story were fantastic. Negovetich's multifaceted character development ensures that you not only get to know the main characters very well, but all of the major characters become more than mere acquaintances. The multiple personalities really allow you to identify with some and ally yourself against others. It was fantastic. Not only that, but the plight in which the main character finds herself is not only unique, but it endears you to her. I found myself wondering what I would have done in that situation and if I'd have had the strength to do what she did.
Overall, this was a fantastically unique novel that deserves a place in the ever-growing world of YA dystopian works.
Prize Description:
Chapter 17 tissues (because that's when you'll need them), a jumbo sized chocolate bar (a hot commodity inside the PIT), an orange scented candle (courtesy of Rebecca's fondest memory from home, a dandelion pen (as featured on the cover), handcrafted Molly bag (named after the character responsible for sewing them in the book, these are the bags used extensively by the main characters), and a $10 Amazon gift card.