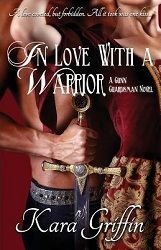 Title:
In Love With a Warrior
Series:
Gunn Guardsmen #4
Author:
Kara Griffin
Published:
December 1/14
Length:
350pgs
Format:
ecopy
Genre:
Historical Romance
Shelf:
Netgalley
Rating: ★★★★
Back Cover Blurb:
Besotted by the Princess
James Gunn knew his heart would forever be hers when she bested him in combat. Never had he met a formidable foe such as Emlyn. Mayhap it was the way her body felt above his when she pinned him and he had no choice to submit to her …
A love coveted but forbidden
Princess Emlyn would allow no man to victor over her on the field, especially the arrogant, sexy highlander. It would do well for him to know she wouldn't fall at his feet and worship him. Aye, he was God-like in his appearance, strong, capable, and a protector: all the things she said she didn't want in a man.
All it took was one kiss
Neither could deny their attraction. When Emlyn is betrothed to her clan's enemy to save her people from being besieged, she beseeches James for help. The only way she can escape her ill-fated destiny and have the man of her dreams is to wage war and triumph. Not so easy a feat for a warrior such as her.
My Review:
Griffin takes us back to the world of the Gunn Guardsman in a very memorable way with this novel. Her low key yet eloquently picturesque descriptions bring the entire world to life. I thoroughly enjoy this author's writing style. Her unique and pleasing tone as well of the cadence of the story takes you back in time. The end of this novel felt like the end of an era to me. You could feel the changing of the Guard. I thoroughly enjoyed travelling through this world that Griffin has created, and enjoyed every minute of it.
The formidable characters that we meet in this novel were absolutely priceless. The major characters were all quite well developed. The full-bodied aura of the cast really made me feel like I was in Scotland and Wales alongside them. The extremely unique heroine definitely captured my imagination. Seeing her try and walk the line between what she wants to be, what she's expected to be, and who she needs to be was quite inspiring. Combine her with a swoon-worthy yet at times misguided hero and you have a couple that will keep you coming back for more. There is a natural flow to this dialogue that fits with how I imagine people talked at the time. You can also see the differing dialects from the regions we visit through the dialogue.
Realism, romance, passion, and the heat of battle all combine in this wonderful novel. It was a uniquely satisfying novel combining the best of historical romance with some remarkably accurate history.