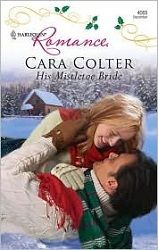 Title:
His Mistletoe Bride
Author:
Cara Colter
Published:
December 1/08 by Harlequin
Length:
182pgs
Format:
paperback
Genre:
contemporary romance
Shelf:
bought
Rating: ★★★★★
Back Cover Blurb:
Police officer Brody Taggert has his reasons for hating Christmas. But Lila Grainger's arrival in Snow Mountain tilts his carefully balanced world sideways.When they are snowbound in a log cabin, beautiful and vibrant Lila begins to break down the armor around Brody's heart...but the glimmer of sadness in her eyes makes Brody want to rescue her right back.
As Lila and Brody help heal each other's hearts, they realize they don't ever want to leave their snowbound shelter....
My Review:
This novel is festive and buoyant, packed full of the holiday spirit. She nails both the interior and exterior charms of the season. It's also emotionally hard hitting yet still a fun and quick read. The author makes you laugh, as well as making you cry the good sort of tears. Colter's picturesque descriptions bring her novel to life in a realistic manner.
I love the way that Colter develops her characters. She doesn't pull any punches at all, simply letting them be themselves. I really enjoyed getting to know both of the main characters. Their histories are quite revealing, and who they are today is just remarkable.
Overall, this was an enjoyable, light Christmas novel that I thoroughly enjoyed. I'd recommend it to anyone looking for a quick yet very enjoyable holiday read.