Today we have Isabel Cooper as our guest, & then we'll take a close look at her latest release
The Highland Dragon's Lady.
What attracted you to writing about dragons? by Isabel Cooper
Like so many things in my life, my fondness for dragons pretty much comes down to the eighties and my parents.
See, the classical depiction of dragons probably wouldn't have interested me wildly: big firebreathing lizards who eat princesses, or big benevolent snake-ish things who inexplicably have whiskers. They were fine as part of a general fantasy world, but eh, whatever. (Despite being the sort of mildly obnoxious child who really liked snakes, I was pretty ambivalent toward lizards, and the whiskers on the Asian depictions just threw me off.)
Except then, when I was ten or so, I read Anne McCaffrey's Dragonriders of Pern series, and a year or two later, I got into Dungeons and Dragons. Now, I could say that the dragons in both of those were more complex, or that some were benevolent, or that the Pern ones had that Your Best Psychic Friend Forever thing that was so common in eighties fantasy and so appealing to pre-teen girls, even though no benevolent entity would survive very long in telepathic contact with a middle-schooler. (I have been a thirteen-year-old girl, and I've known them, and I'm pretty sure that the Super-Good Magic Horsies making contact with that demographic would react much more like heroes in Lovecraft, or maybe the cops in Se7ven.) But no. That was not the allure.
These dragons were shiny.
See, I was raised by people who believed in sleek minimalism and "natural" colors (and gave no weight to my argument that both peacocks and sunsets are TOTALLY NATURAL so you just mean BORING colors, MOM) and I also grew up in the heyday of Lisa Frank and Hypercolor. I did, and do, gravitate unerringly toward rhinestones, neon, and reflective holographic fabric.
The dragons of Pern were brightly multicolored. They had a system of being brightly multicolored, and I love that. (See also: Green Lantern. Not the movie.) D&D had a whole vast chart of what colors meant good or evil, what colors meant which powers, and none of these colors was anything like "natural" in the Tasteful Decor sense. They were bright blue. Or gold. Or made of amethyst, for God's sake. (Although gem dragons were kind of doofy, in practice.)
So that was kind of the coolest thing ever.
I drew a lot from the D&D version when writing the Highland Dragon books. My dragons are all one family, and their powers are the same, but by God, they're shiny. And multicolored. Even in human form, I kept hints of the weird coloration, because frankly, I think the world would be a better place if more men had blue hair and gold eyes.
It'd at least be a cooler place.
About the author:
Isabel Cooper lives in Boston with her boyfriend and a houseplant she's kept alive for over a year now. She maintains her guise as a mild-mannered project manager working in legal publishing. She only travels through time the normal way and has never fought a demon, but she can waltz. For more visit isabelcooper.wordpress.com.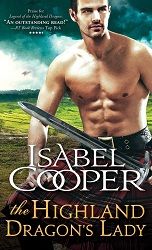 Title:
The Highland Dragon's Lady
Series:
Highland Dragons #2
Author:
Isabel Cooper
Published:
December 2/14 by Sourcebooks
Length:
352pgs
Format:
ecopy
Genre:
historical paranormal romance
Shelf:
Netgalley
Rating: ★★★★
Back Cover Blurb:
He's Out of the Highlands and on the Prowl...
Regina Talbot-Jones has always known her rambling family home was haunted. She's also aware her brother has invited one of his friends to attend an ill-conceived séance. She didn't count on that friend being so handsome…and she certainly didn't expect him to be a dragon.
Younger son of a family of shapeshifting dragons, Highlander Colin MacAlasdair has lived a life free of both family duty and mortal cares. Moving in and out of human society as he wishes, he takes very little seriously—until Regina drops onto his balcony one midnight, catching his attention and his interest. She's like no mortal he's ever met, and no matter how hard he tries, he can't seem to get her out of his head.
Bound by circumstance, drawn by the fire awakening inside of them, Colin and Regina must work together to defeat a vengeful spirit—and discover whether their growing love is powerful enough to defy convention.
The Highland Dragons Series:
Legend of the Highland Dragon
The Highland Dragon's Lady
Night of the Highland Dragon
Before you go!
Be sure to enter the giveaway.