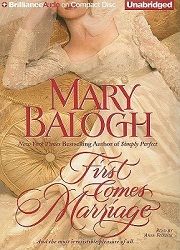 Title:
First Comes Marriage
Series:
Huxtable Quintet #1
Author:
Mary Balogh
Published:
February 24/09 by Brilliance Audio (1st published January 1/09)
Length:
416pgs
Format:
audio book
Genre:
historical romance
Shelf:
borrowed
Rating: ★★★★
Back Cover Blurb:
Against the scandal and seduction of Regency England, New York Times bestselling author Mary Balogh introduces an extraordinary family — the fiery, sensual Huxtables. Vanessa is the second daughter, proud and daring, a young widow who has her own reason for pursuing the most eligible bachelor in London. One that has nothing to do with love. Or does it?
The arrival of Elliott Wallace, the irresistibly eligible Viscount Lyngate, has thrown the country village of Throckbridge into a tizzy. Desperate to rescue her eldest sister from a loveless union, Vanessa Huxtable Dew offers herself instead. In need of a wife, Elliott takes the audacious widow up on her unconventional proposal while he pursues an urgent mission of his own. But a strange thing happens on the way to the wedding night. Two strangers with absolutely nothing in common can't keep their hands off each other. Now, as intrigue swirls around a past secret — one with a stunning connection to the Huxtables — Elliott and Vanessa are uncovering the glorious pleasures of the marriage bed…and discovering that when it comes to wedded bliss, love can't be far behind.
My Review:
What a charming story. Balogh had me hooked. Her fantastic storytelling combined with the unique and yet straightforward descriptions brought this world to life in a realistic yet vividly fantastic manner. Readers are transported to The Season amidst London's ton scene. Balls come to life in a breathtaking manner that you can't help but picture. This is one of those stories that you know must end with a HEA but can't quite figure out how it will happen. The twists and turns that this story took, although not necessarily earth shattering, definitely kept me on my toes.
I love the way that Balogh describes people. She catalogues their features the way one would think about them if you met them at a gathering and wanted to be sure to remember them. Physical features and apparent personality traits are at the forefront. I thoroughly enjoyed getting to know the main characters in this story. Individually they were entertaining and one of a kind. However, his broodiness combined with her cheerful disposition in such a remarkably inviting way that I couldn't help but smile.
I definitely can't wait to delve further into this series & into this author's work.