Title:
Curves 'Em Right
Series:
Paranormal Dating Agency #4
Author:
Milly Taiden
Published:
December 5/14 by Latin Goddess Press
Length:
186pgs
Format:
ecopy
Genre:
paranormal romance
Shelf:
review
Rating: ★★★★★
Back Cover Blurb:
A BBW in search of love + two sexy wolf shifters ready to claim her as their mate = Sizzling Ménage Romance
Daniella Flores is looking for a good man. A man who will accept her as she is and go crazy for her curves. So far she's had no luck in the romance department and is worried she might never find the right one. When Mrs. Wilder of the PDA offers to help, Dani is all for trying anything. Mrs. Wilder promises to find her love, romance and hot sex. What woman in her right mind would say no to that?
Kane and Blake have been searching for a mate to complete their Alpha triad. There's just one problem: they've yet to find a woman they both want. Not to worry, Kane's mother comes to the rescue and brings in the PDA. Unfortunately for them, Mrs. Wilder has something up her sleeve and it's not a bra. When they meet their mysterious date, they know she's the woman they need.
A masquerade ball brings Dani and the shifters together. The two men who are really good friends with Dani's overprotective older brother. She'll get one chance to finally live the fantasy night she's always wanted with the wild wolves. Besides, it's not like they could really want her for a mate. It will take some maneuvering for Kane and Blake to keep Dani, not lose their friend and their pack, and prove her curves are the only ones they want.
Reader Warning: This book contains panty-melting sex (the kind that makes you need fudge and a cold shower), adult language (we like some freaky dirty talk), and violence. If this is not the kind of stuff you like to read, skip this book. However, if you like dirty, raunchy sex with two men on one curvy sarcastic girl, then this is right up your alley. Enjoy!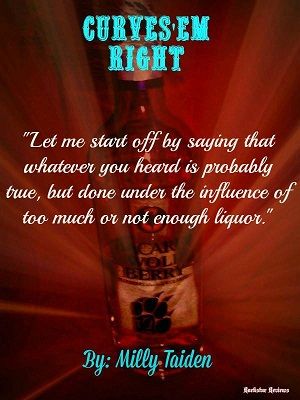 Excerpt:
"May I ask, are you averse to multiples?"
Say what? "I'm sorry what do you mean? Multiple what? Dates?"
"Multiple men. I'm not sure if you are aware, but some shifter packs have what's called a Triad. That means two leaders need a female to complete their Alpha set and lead the pack. Together. They mate together and they sleep together. Almost all the time."
She raised her brows in surprise. "You mean like a ménage but forever?"
"Yeah. Happily ménage ever after."
"Well, shit. Count me in. I don't care if you can get me one, two, or a whole pack of men who want me. As long as they genuinely want to be with me and are not just doing it out of some duty to help out the fat girl."
"My clients are not that kind. They're aggressive. Possessive. Jealous. They love their women because of their curves, not despite them. And they will show it."
SIGN UP FOR Milly's
NEWSLETTER
FOR LATEST NEWS!
New York Times & USA Today Bestselling Author Milly Taiden (AKA April Angel) loves to write sexy stories. How sexy? So sexy they will surely make your ereader sizzle. Usually paranormal or contemporary, her stories are a great quick way to satisfy your craving for fun heroines with curves and sexy alphas with fur.
Milly lives in New York City with her hubby, the boy child and their little dog "Needy Speedy". Don't ask. She's aware she's bossy, is addicted to shoe shopping, chocolate (but who isn't, right?) and Dunkin' Donuts coffee.
Come by and visit her! She loves to meet new readers! ~
Website
~
Facebook
~
My Review:
The world that Taiden has created in this series really comes to light here. She writes with the same enticing and exhilarating style while building on the previous stories to create an imaginative whole. I was really impressed with the way that the underline message of this story (and the series as a whole) really shines through here. It's about being true to who you are and being loved for being that person, not kowtowing to society's ideals. This is all wrapped up in a wonderfully unique and erotically stimulating package.
Taiden's in-your-face writing style really brings out the main character's personality. She's so real & true to herself that you can't help but enjoy being in her company. Pairing her with this contrasting pair of wolves was fantastic. The mix of well-developed personalities really draws you in. I also enjoyed how everyone was developed individually & remained an individual, regardless of whether they were working together or separately.
Overall, this was a fantastic addition to Taiden's Paranormal Dating Agency series. I wouldn't hesitate to recommend it to others, but I would suggest reading the rest of the series first for context.