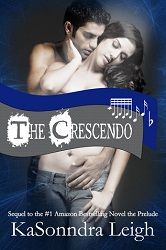 Title:
The Crescendo
Series:
A Musical Interlude #2
Author:
KaSonndra Leigh
Published:
May 27/14 by K. Leigh Books LLC
Length:
156pgs
Format:
ecopy
Genre:
contemporary romance
Shelf:
review
Rating: ★★★
Back Cover Blurb:
He taught her how to walk outside the line. She taught him how to leave the past behind. In the end, fate brought them both together.
Six months ago, Erin Angelo was hired by Alek Dostov, the charismatic Maestro who hired her design firm, the same man who healed the wounds of her tragic past.
In the highly anticipated, reader requested sequel to THE PRELUDE, Alek and Erin are preparing to embrace their new life and love for music while nurturing Erin's blossoming singing career. But when a mysterious figure from Erin's past walks back into her life, Alek and Erin's belief that their love will conquer everything is put to the test. As Alek continues to struggle with the ghosts of his past and recent family troubles, Erin finds a way to reconnect with her fiancée. The couple set out on a tour of Italy, taking Alek's music group to the next level.
But Alek's mother, Katerina, has other plans in mind. She orders the tour manager to go along with them. Now, they will face new challenges while dealing with the pressures of their careers.
Passion, excitement, adventure, danger, and a Maestro with more swagger than a rock star. THE CRESCENDO lifts you up to a high you won't soon forget.
My Review:
Leigh develops the world surrounding music well, allowing those without the background to understand what's going on, while also not bogging down those who are already in the know. The entire world is built in such a manner that you can easily follow the multiple different aspects of this well written novel. Unfortunately I had a hard time fully getting into the story.
I enjoyed the characters in this novel. Leigh has developed them in a multifaceted manner, allowing readers to get to know them on many levels. There were times when I had a bit of difficulty merging them with their counterparts in the first novel of the series. The major transformations and character shifts were a little drastic, but were also very well & easily explained by the current events surrounding the characters.
Although well written & enjoyable, I simply found this story difficult to fully get into. I fully understand why others can & will thoroughly enjoy it, it wasn't my cup of tea.