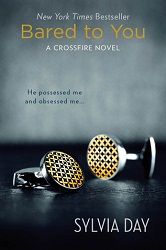 Title:
Bared To You
Series:
Crossfire #1
Author:
Sylvia Day
Published:
June 12/12 by Berkley Trade
Length:
338pgs
Format:
paperback
Genre:
contemporary erotic romance
Shelf:
bought
Rating: ★★★★★
Back Cover Blurb:
Gideon Cross came into my life like lightning in the darkness…
He was beautiful and brilliant, jagged and white-hot. I was drawn to him as I'd never been to anything or anyone in my life. I craved his touch like a drug, even knowing it would weaken me. I was flawed and damaged, and he opened those cracks in me so easily…
Gideon knew. He had demons of his own. And we would become the mirrors that reflected each other's most private wounds…and desires.The bonds of his love transformed me, even as i prayed that the torment of our pasts didn't tear us apart...
My Review:
Day weaves a sinfully seductive storyline that leaves you sizzling. I couldn't even fathom putting it down once I'd started. I really enjoy Day's writing style. I found it easy to follow and that it fit well with the story at hand. Her eye popping and earth shattering descriptions build this world to a crescendo. Everything is so completely messed up and absolutely perfect. This story is so raw & real that the outside world disappeared while I was reading it.
Day creates some very interesting and approachable characters. I appreciate the way that she develops their baggage; highlighting it without allowing it to take over. The contrast between the way they see themselves and the way that they see each other is breathtaking. The dialogue between the characters is quite natural. It adds to the realism of the story. I appreciated the detail that went into this development. I haven't enjoyed getting to know characters this well in a very long while.
I would highly suggest booking yourselves a date night with Gideon Cross. He goes just as well with a cup of coffee as with a glass of wine. This is a must read for everyone who likes something hot.