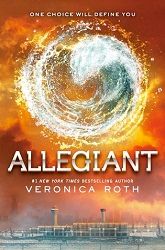 Title:
Allegiant
Series:
Divergent #3
Author:
Veronica Roth
Published:
October 22/13 by Katherine Tegen Books
Length:
526pgs
Format:
hardcover
Genre:
YA dystopian
Shelf:
bought
Rating: ★★★
Back Cover Blurb:
The faction-based society that Tris Prior once believed in is shattered--fractured by violence and power struggles and scarred by loss and betrayal. So when offered a chance to explore the world past the limits she's known, Tris is ready. Perhaps beyond the fence, she and Tobias will find a simple new life together, free from complicated lies, tangled loyalties, and painful memories.
But Tris's new reality is even more alarming than the one she left behind. Old discoveries are quickly rendered meaningless. Explosive new truths change the hearts of those she loves. And once again, Tris must battle to comprehend the complexities of human nature--and of herself--while facing impossible choices about courage, allegiance, sacrifice, and love.
Told from a riveting dual perspective, Allegiant, by #1
New York Times
best-selling author Veronica Roth, brings the Divergent series to a powerful conclusion while revealing the secrets of the dystopian world that has captivated millions of readers in
Divergent
and
Insurgent
.
My Review:
Roth writes this novel with the same easy going writing style and vivid descriptions that we've come to appreciate in this series. I had a much harder time staying focussed on this one compared to the first two novels in the series. It was still a well done novel but was missing the 'can't put it down' quality that both Divergent & Insurgent had. Throughout the novel I was torn between putting the book down and going to do something else because I couldn't quite get fully into it and not being able to put it down because I'd hit one of the pockets where the storyline rocketed forward. Emotions run high in this novel while beliefs and perceptions are thoroughly tested. The real life possibilities are both frightening and endless. The biology and genetics behind it are quite interesting but the implications are boundless.
I found myself questioning some longstanding beliefs I had about certain characters in this one. The way in which they were portrayed changes, sometimes only in minute ways but enough that it makes you rethink everything. For example, the huge shift in personality when Four officially starts referring to himself as Tobias completely changes the relationship dynamics throughout the entire novel. The new characters that Roth introduces are developed in a unique, one sided way that allows you to see what Tris and/or Tobias see in the characters. It gives a rather neat aura to this part of the story.
It's not that I didn't enjoy this story, it was just so completely different from the rest of the series that I had a hard time realigning myself with the story. It was a decent read and without a doubt ended the series in a shocking yet undisputable manner.