Title:
A Winter Wedding
Series:
The Devereaux Manor Mystery #2
Author:
Tracey Smith
Published:
November 30/14 CreateSpace
Length:
232pgs
Format:
ecopy
Genre:
romantic suspense
Shelf:
review
Rating: ★★★★
Back Cover Blurb:
Despite her dark past Kate Benson was looking forward to a very bright future. She was going to be a wedding planner and she was going to be the best. When a mysterious letter arrived offering her the opportunity to realize her dreams, it was too good to pass up. But Kate had no idea what was waiting for her at Devereaux Manor and nothing could prepare her for what she found. It had been five years since Aaron and Maggie left Devereaux Manor. Maggie hoped that returning for the wedding would give her the opportunity to get the answers she needed. But for Aaron, allowing Ms. Devereaux's involvement in their lives again felt like making a deal with the devil. He was plagued with a growing fear that the day of reckoning was coming, the day when Ms. Devereaux's true motives would come to light. Discover the secrets that lie within Devereaux Manor.

My Review:
Smith had me hooked from the explosively emotional start of this novel. I was so caught up in what was happening in the story that the world around me disappeared. Smith also kept me on my toes. The plot twists in this novel left me reeling. I could never guess what was going to happen next. The narrative kept me involved in the story, while the naturally beautiful descriptions brought everything to life.
This novel definitely needs to be read after the first in the series, and will leave you needing to read the next one as there is no resolution to the overarching mystery of the story. It is something that carries over from the first novel and is definitely going to play a role in future novels as well. I quite enjoyed how the novel ended, even if it was rather abrupt. It fit directly with the way in which the mystery has been developing. That said, if you're one who doesn't like cliffhangers or dangling plot loops at the end of the novel, you may want to steer clear of this one.
I loved the main character from the beginning of the novel. The way that she stood up for herself, even if it was not in her best interest, was fantastic. I also enjoyed getting to know the male lead. Smith's character development wasn't overly indepth, but her unique method of bringing them forward worked very well with the story. I'd also love to know Ms. Devereaux's deal. She's becoming more mysterious by the book, even though we're finding out more about her.
Overall, this was a fantastic follow up to the series opener and has left me dying for the next. I wouldn't hesitate to recommend it to others.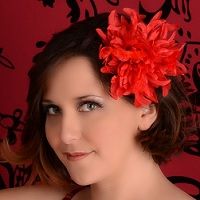 About the author:
I grew up in Southern California, but as a teenager moved with my family to a small town in Arkansas. It was there that I met my husband, who had also recently moved to the state. Fate brought us both to that same small town and into each other's lives and it is where we remain today raising our two children and living out our happily ever after. As you can probably tell I'm a hopeless romantic.
I began my writing career in 2009 with the publication of my first novel Love's Fate, which quickly grew into a romantic series. Since that first day that I sat down to write I haven't been able to stop. Writing is my passion and has become a necessary part of my life. Sometimes there are stories that just beg to be told.