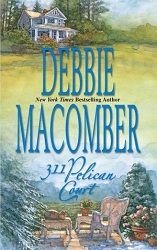 Title:
311 Pelican Court
Series:
Cedar Cove #3
Author:
Debbie Macomber
Published:
June 1/05 (1st published 2003)
Length:
384pgs
Format:
paperback
Genre:
contemporary romance
Shelf:
bought
Rating: ★★★★
Back Cover Blurb:
Rosie Cox
311 Pelican Court
Cedar Cove, Washington
Dear Reader,

One thing about Cedar Cove — people sure are interested in what other people are doing. Take me, for instance. Everybody in the town knows that my husband, Zach, and I recently got a divorce. Everybody also know that Judge Olivia Lockhard decreed a pretty unusual custody arrangement. It won't be the kids moving between my place and Zach's.We're the ones who'll be going back and forth!

Olivia isn't immune to gossip herself. Will she stay with Jack, the guy who runs our local paper, or will she get back with her ex? Inquiring minds want to know!

But the really big gossip has to do with the dead guy — the man who died at a local bed-and-breakfast. Who is he and why did he show up there in the middle of the night? Roy McAfee, our local private investigator, is absolutely determined to find out. I hope he does — and then I'll let you know! See you soon. . .

Rosie
My Review:
Welcome back to Cedar Cove, the town that will steal your heart & leave you believing in happy endings, even if there are some bumps along the road. I really appreciate how realistic this story is. Macomber never rushes her characters, but rather allows relationships to build slowly, continuing on throughout the series. Although I thoroughly enjoyed this novel, I found it harder to get into than the first 2 novels in the series. Once I was immersed in the story I thoroughly enjoyed it.
I really enjoy how much more in depth we're getting into the various characters' stories at this point in the series. The intricately intertwining stories are absolutely phenomenal. I still find Rosie to be an over the top character at the beginning. For someone with a family to raise she's excessively self-absorbed and refuses to listen or take any blame on herself. She does grow on me throughout the novel, and I didn't dislike her by the ending. The change was gradual and definitely realistic. Because of the intertwining stories and the number of major characters, even if you don't like one it's still very easy to love the story as a whole.
This was definitely a warm and inviting return to Cedar Cove, the town where I may just move in the future. I love the world that Macomber builds and allows her readers to explore. My parting thoughts with this one? Oh Charlotte… What did you get yourself into this time?