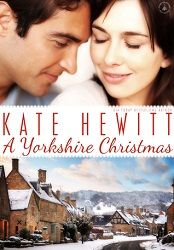 Title:
A Yorkshire Christmas
Series:
Christmas Around The World #2
Author:
Kate Hewitt
Published:
October 28/14 by Tule Publishing
Format:
ecopy
Genre:
contemporary romance
Shelf:
Netgalley
Rating: ★★★★
Back Cover Blurb:
Wealthy New York City girl Claire Lindell isn't looking for a Christmas miracle or happiness when she abruptly decides to hole up for the holiday at her godmother's cottage in a little Yorkshire village, and lick her wounds from a near disastrous romantic decision.
After her car skids into a snow bank, Claire may have accidently found her perfect Christmas and the family and love she's craved when she offers Noah Bradford of Ayesgill Farm help to push the back end of one of his sheep out of the icy mud, even if she's going to ruin a brand new pair of Prada boots during the rescue.
What's a little leather when love's on the line?
My Review:
Hewitt took me completely across the world with this one. Her vividly intricate descriptions of the countryside and farm life allowed me to join her characters in their Christmas joy. At the same time, this unique story kept me captivated. I really felt for these characters. Their joy and their sorrow was so easy to feel coming out of the pages of this story.
The strong yet vulnerable characters are so real and realistic. I appreciated how Hewitt developed certain aspects of their characters above others. She presented these individuals the way that they see themselves, rather than simply how they are perceived by others. It really let me see the root of the story.
This novella was a cute little look at Yorkshire over Christmas. It was a quick, enjoyable read that goes well with either a cup of coffee or a glass of wine for that dash of romance over the holidays.