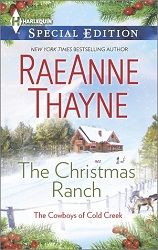 Title:
The Christmas Ranch
Series:
The Cowboys of Cold Creek #13
Author:
RaeAnne Thayne
Published:
November 18/14 by Harlequin
Length:
224pgs
Format:
ecopy
Genre:
contemporary western romance
Shelf:
Netgalley
Rating: ★★★★
Back Cover Blurb:
HOME FOR THE HOLIDAYS
Hope Nichols has never felt as if she belonged anywhere, except her hometown of Pine Gulch. So, when she hears that her family's property, Christmas Ranch, is set to be shut down forever, a determined Hope heads home. She refuses to let the Grinch steal her holiday—this will be the most memorable ranch Christmas ever! And, thanks to hunky former navy SEAL Rafe Santiago and his adorable nephew, she might just pull off that miracle.
Rafe is undeniably drawn to Hope and her passion for rebuilding her family home. But he knows more about Hope's tragic past than even she herself could imagine. And though she doesn't know it, she owes him her life. And all he wants in return is for her to spend it with him.
My Review:
This is an enchanting Christmas story full of the essential family-ness of the season, and oh so much more. Thayne brings her characters' pasts and present together in a big way to create an intimate yet shocking story for those who enjoy romance with a little bit more. Her seamless writing allows you to flow through this story and enjoy it.

This is definitely a very character driven story. The main characters are such phenomenal individuals, so well developed and approachable, that you can't help but love them. At the same time, it is their thoughts and decisions that propel this story into the realm of loveable. I also love the way that children and their wellbeing play a prominent role in this story. This isn't just about 2 adults falling in love. Their families and friends are taken into account throughout.

As a whole this was a very enjoyable Christmas read. It was definitely unlike any other I've read.